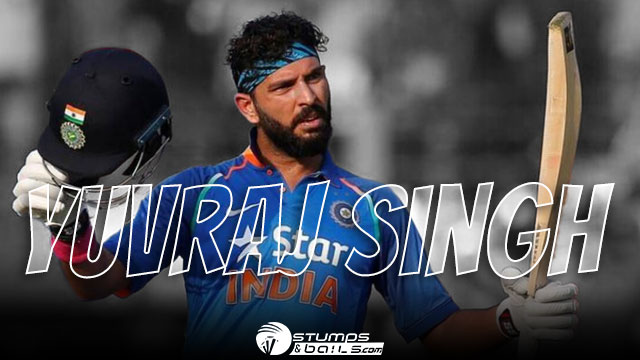 On this day in 2017, the heart throb of Indian cricket fans, Yuvraj Singh played his final ODI match in West Indies.
Widely regarded as one of the greatest all-rounders in the history of cricket, Yuvraj Singh has achieved many heights during his impressive career of 17 years in ODI cricket and helped the Indian side win many big games.
He has played 304 ODI games for India, in which he scored a massive 8701 runs at an average of 36.55 and a strike rate of 87.67 while playing in the middle order.
However, the biggest moment in his and every Indian cricket fan's life will remain how he helped India to win the ICC World Cup 2011.
He has scored 362 at an average of 90.50 with the bat and took 15 wickets with the ball and was awarded as man of the tournament for his heroics run during the World Cup that helped India to claim their second World Cup after long wait of 28 years.
Why everyone calls him Sixer King?
It is because of that beautiful knock that not only stunned the world with impressive stroke playing ability but also push India ahead in the race of reaching semi-final of the ICC World Cup 2007.
India, who lost their first match against New Zealand, badly needed to win the game against England to stay in semi-final contention.
India after winning the toss decided to bat first, and their decision turned out to be extremely right when both the openers specially Virender Sehwag started punishing the loose bowls. Both Sehwag and Gambhir added 136 for 1st wicket in 14.4 overs.
India then lost 3 wickets in 19 runs, then comes Yuvraj Singh on field when only 20 balls remaining to play in the innings.
India were 155 for 3 in 16.4 overs, with both MS Dhoni trying their best to put more runs on board.
During the 18th over Yuvraj had a bit argue with Englishman Andrew Flintoff and what happened next was unimageniary by anybody.
Yuvraj Singh smashed six consecutive sixes in the 19th over while facing Broad, and not only cool down his anger with those monstrous shots but also help India cross 200 mark.
The Southpaw recorded fastest half-century in the T20I in just 12 balls, which is still a record even after 15 years.
India won that match by 18 runs and later they defeated South Africa in the league stage, while mighty Australia in the semis and Pakistan in the final to win the inaugural ICC T20 World Cup.
When Yuvraj took retirement from all forms of cricket?
The 'Sixer King' Yuvraj Singh had announced his retirement from international cricket in 2019.
Yuvraj played 40 tests, 304 ODIs and 58 T20Is for India. He recorded 1900 runs in tests, 8701 in ODIs and 1177 in T20Is.