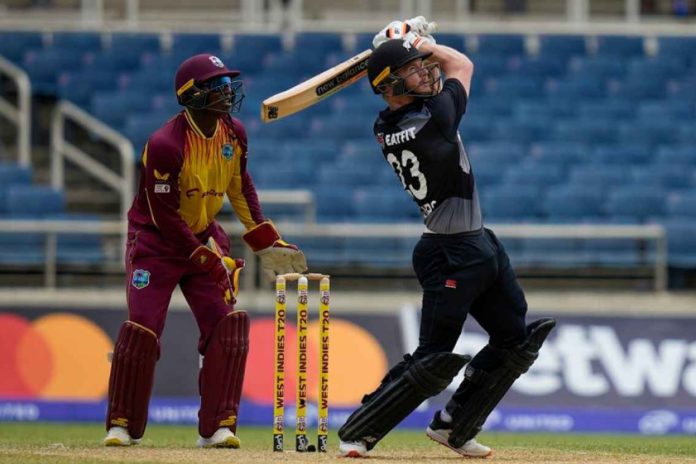 New Zealand coach Gray Stead is impressed by the batting style shown by the middle-order batsman in recent times.
Stead said that "It's a nice luxury when you look around the dressing room," "Guys like Jimmy Neesham, the way he finished that first game was fantastic, coming in and scoring (33 off 15 balls). Daryl Mitchell showed his power in the second game, striking at 200 or a little bit more (48 runs in 20 balls) as well. We've got Michael Bracewell, who played the last game, who adds power, and we're yet to see Mitchell Santner show his skills on this tour, and we saw what he can do in the Netherlands as well where he scored an unbeaten 42-ball 77 in the second T20I."
If we look at the stats from the start of 2020 there is only one batsman who has scored more runs in the T20 format with a batting average of 39.26 along with the third best strike rate of 152.62, Glenn Phillips has scored 746 runs during this time and the Coach is certainly impressed with his performance.
Glenn has three fifties to his name in his last seven T20 games and the last fifty he scored was against the West Indies where he scored 76 runs of 41 deliveries.
The coach is not only impressed by his batting, but also by his exceptional fielding skills and his speed on the outfield for stopping the flow of the runs, he has taken four catches in the first two T20 games against the West Indies.
"Glenn burst onto the scene a year or so ago now, and scored a great hundred at Mount Maunganui versus West Indies, and since then just keeps making every post a winner. His batting's been fantastic, he's got good power, but then you couple that with what he can do in the field, it's pretty special as well. He's taken a lot of catches this tour, but the speed he has saves us runs on the field too, it isn't just Phillips who has sparkled in New Zealand's middle order during this West Indies tour. James Neesham and Daryl Mitchell have also played vital finishing knocks in the first two T20Is." (Source- espncricinfo)
New Zealand has scored more than 180 in their last two games against the former World Cup winners West Indies, and the New Zealand side is looking strong and prepared for the upcoming T20 World Cup in Australia.