The former India captain, MS Dhoni is known for his famous social media replies, which are both humorous and classy. He is also active on Twitter and has a great time with his followers on the microblogging site, in addition to his street smartness and lightning-quick hands during his time with Team India. MS Dhoni response shut down a Twitter user
Mr. Cool to deal with a few trolls who used to criticize him for his 'Poor Performance' in some games
During his well-known meetings with fans, the 39-year-old was approached by a variety of people who rushed him with questions ranging from his diet to his passion for motorcycles and pets. However, not everything is always pleasant, and the former wicketkeeper-batsman had to deal with a few trolls who used to criticize him for his poor performance or batting in some games.
Dhoni being Dhoni, gave a sassy reply to the tweet, "@beingashu79 @msdhoni The only person to whom a woman listens is a photographer with open mouth" but only after giving her input, this is funny," Dhoni had tweeted on July 17, 2012.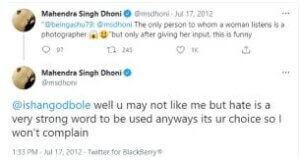 'Hate is a very strong word' to be used anyways "it's ur choice so I won't complain," – Says Dhoni
After seeing the tweet, the user shared a very unresponsive and the post to mean on the former Indian skipper. "I hope @msdhoni knows there are many ppl who hate him. I am one of them," the internet troll had said in his post at the time.
While many fans were confused by the odd remark, Dhoni took up the matter and schooled the user for making an inappropriate comment. MS Dhoni response shut down a Twitter user "@ishangodbole well u may not like me but hate is a very strong word to be used anyways its ur choice so I won't complain," Dhoni had said in his reply.
In fact, Dhoni shocked the cricketing world by announcing his retirement from international cricket via an Instagram post that featured the song "Main pal do pal ka shayar hoon." The former wicketkeeper-batsman highlighted his most memorable experiences with Team India in a three-minute video.
Dhoni, who was born in Jharkhand, last tweeted on January 8 of this year. On Twitter, he has eight million followers, and 33.1 million users follow him on Instagram.