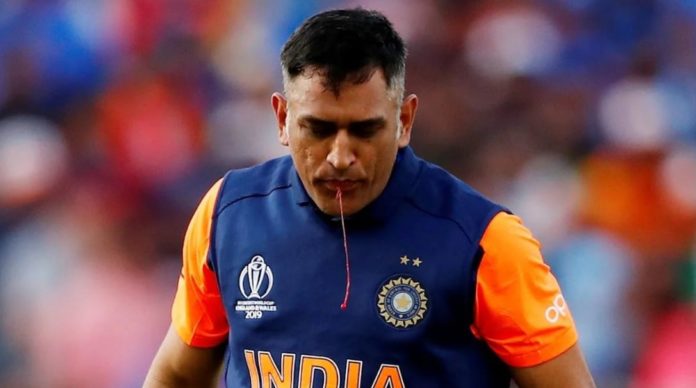 From the day when India lost the match against England, everyone started questioning Dhoni and Kedar Jadhav's intent while playing the match. The pair failed to chase the target of 338 towards India's win and just added 39 runs to the total as India finished at 306 for 5. Looking at this Scenario in the ongoing tournaments, everyone started criticizing Dhoni for his slow innings.
After the match, the pictures of MS Dhoni spitting out the blood in the match while batting went viral which went unnoticed during his slow-innings and he went on with the pain and continued to bat till the end.
MS Dhoni was hit on his thumb during the wicket-keeping and again hit on the same thumb when he was batting. He sucked up the blood and continued playing in the field in spite of the pain in the thumb.
Looking into the same match where he got hurt MS Dhoni remained unbeaten on 41 off 32 deliveries against England even though India lost the match by five wickets. In a similar way in the match against Bangladesh Dhoni made 35 runs off 33 deliveries. However, in the context of the game, the knock seemed to be crucial at the end.
India scored 314 runs in their full 50 overs against Bangladesh and won the match by 28 runs. This is where MS Dhoni's runs were important as India played full 50 overs because of him and eventually managed to play the game putting their place in the knockouts.
The fans on the social media praised the former Indian skipper for his dedication and commitment towards the team.
Here are Few Tweets:
He Played with an injured thumb and spat out blood.Butt Still,there are experts out there on social media,who question his #intent.
Stupefied is the word!
Dear dhoni,we believe in you.
Respect upgraded.#Respect @msdhoni 😘😘 pic.twitter.com/7ounnzJpNU

— Farhat ullah khan🇦🇫🇦🇫 (@Farhat_khan__) July 3, 2019
.@msdhoni played with an injured thumb, and spat out blood. But still, there are "Experts" out there on social media, who question his "intent". Stupefied is the word!#TeamIndia #MSDhoni #Dhoni pic.twitter.com/uetkN903Yz

— MS Dhoni Fans Official (@msdfansofficial) July 2, 2019
Blood bleeding in the ground how play. no commonsense have trolling comments Ms dhoni strike rate. @msdhoni is @Legend of cricket.any situation @msdhoni finish the match. he know how to play. I hope now also stop the trolling comments against @msdhoni. pic.twitter.com/yg2fcCZMn6

— Mudu Bhargav Ram (@BhargavMudu) July 4, 2019
.@msdhoni played with an injured thumb, and spat out blood. But still, there are "Experts" out there on social media, who question his "intent". Stupefied is the word!#TeamIndia #MSDhoni #Dhoni pic.twitter.com/ynp9jksV8K

— Vijyendra Shukla (@vijyendrashukla) July 4, 2019
See Strange Image Minutely .MS Dhoni Spitting Blood from his Mouth After Two Thumb Injuries Vs England Match ! pic.twitter.com/9xdqvXkrF5

— k kumar rao (@kkrao3107K) July 4, 2019