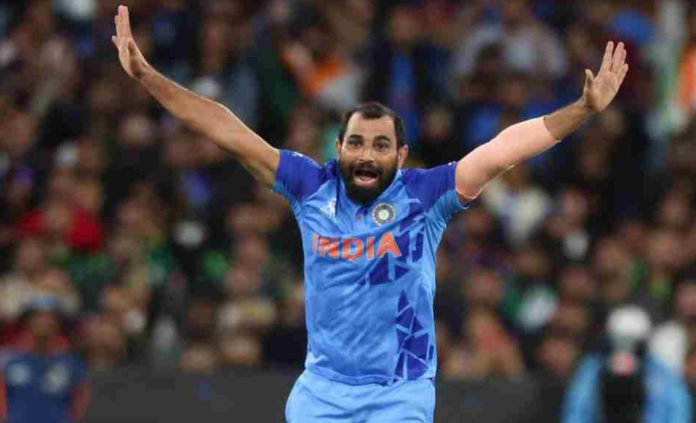 Mohammed Shami quietly contributes to India in the T20 World Cup in 2022.
When Jasprit Bumrah was not selected for the ICC T20 world cup 2022. The Indian campaign already appeared to be in disarray. India had to find a substitute, which was not an easy task. Finding a substitute for Bumrah was difficult. And India's possibilities were also restricted.
Deepak Chahar could recover and could not meet the fitness criteria. Whereas Siraj and Shardul did not have that prime place in the lineup.
So, the selectors and team management went back to Mohammed Shami, despite him not playing the last T20I well over a year ago in the previous edition of the World Cup in the UAE.
Mohammad Shami in consideration of his career span of 9 years. Shami played 17 T20is before the T20 World Cup 2022. And then he was also recovering from a covid infection that forced to sit him outside of his home matches against South Africa and Australia
The sole criteria that might have applied in Shami's situation was his extensive international cricket experience and his stellar performances for Gujarat Titans in the IPL 2022.
Considering that Bhuvneshwar Kumar and Arshdeep Singh both bowl in the 130 clicks and have a somewhat similar style, India also required someone who can pick up the tempo in the 140s. But in the T20 World Cup 2022, Shami improved his performance and continued the good work started by Bhuvneshwar and Arshdeep as the third seamer.
Shami may have benefited from the attention being given to Arshdeep and Bhuvneshwar, which let him to quietly carry out his duties at the opposite end.
A microsample from Wednesday is available (November 2). In the game against Bangladesh that needed to be won where Shami entered the fray to bowl. He conceded just 4 runs in the 10th over and claimed the wickets of Najmal Shanto.
In crucial moments, Shami was also not shy to offer advice to inexperienced bowlers like Arshdeep. We witnessed this happen during the match against Bangladesh when the seasoned pro approached the young tyro right before the decisive over and gave him some pointers.
In the big picture, Shami has been efficient without going overboard in the four games he has participated in. In locations as diverse as Melbourne, Sydney, Perth, and Adelaide.
His outings on 1/25 (against Pakistan), 1/27 (against the Netherlands), 1/13 (against South Africa). And 1/25 (against Bangladesh) each played a part in India's victory or near proximity to the opposition. "I never stop practicing. Changing from a white ball to a red ball or vice versa is difficult. For a player, confidence and flow are crucial. When we consider bowling in the Power Play, we consider hard-length bowling or areas where we may have additional possibilities. I am always ready to bowl with the new ball.
KL Rahul may have best encapsulated the value of each player contributing to the cause of the team. "As individuals, I believe that at this point everyone is aware of their own obligations. "A state of mind that allows you to offer the team your best effort. Therefore, that occurs individually, and this is how we attempt to advance as a team, added Rahul.
"In the past 10, 12, and we have placed ourselves in challenging and uncomfortable situations. Now that we are in those circumstances, we are aware of our actions. We are aware of our planning. Rahul continued, "Therefore, there is a confidence among us that regardless of the circumstance. We'll find a way and strive to perform the work for the team. In Australia for the T20 World Cup 2022. India have undoubtedly faced some difficult playing conditions, and Shami's answer has given them another potent arrow in their quiver.