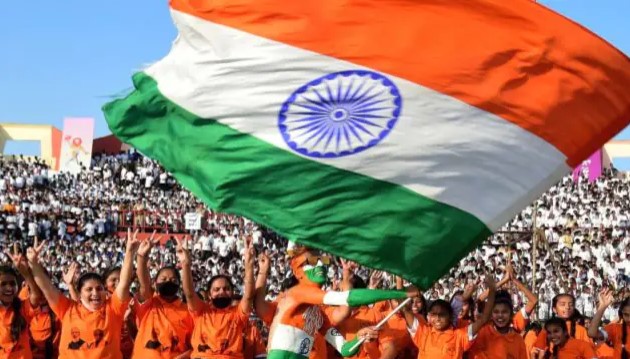 Har Ghar Tiranga is a Campaign conducted under the supervision of Azadi Ka Amrit Mahotsav. This campaign is aimed at bringing people together toward one common goal of Nationalism, where people are instructed to hoist the Indian flag in their homes on the eve of the 75th Independence Day of India.
The first India captain who helped the country to clinch its first ever world cup trophy, Kapil Dev, has made his appearance in the promotional video along with the current popular cricketers like Mithali Raj, Virat Kohli, KL Rahul, and Hardik Pandya.
In the Har Ghar Tiranga anthem video, the gist lies in the promotion in the idea of evoking a sense of ownership among the citizens in the country to celebrate Azadi Ka Amrit Mahotsav. This is a group Initiative with different people symbolizing different locations and cultures.
The biggest patriotic song of the year, the Har Ghar Tiranga anthem was out on Tuesday evening, this song is intended to gain a sense of pride and love for the nation among the citizens.
This amazing video has been shot the whole way across the country which is demarked by the different beautiful backgrounds in the video. Various societies and customs of India which make the Country join are additionally displayed through this awesome video. However the melody is sung in Hindi, and a portion of this tune has been sung in different territorial dialects like Gujarati, Bengali, Tamil, and others.
Indian cricketers play a major role in influencing people with their huge fan base in India, and cricket is considered the most popular sport with a large audience where people try to replicate the lifestyle of the popular cricketers. So involving some popular cricketers like Kapil Dev, Mithali Raj, Virat Kohli, KL Rahul, and Hardik Pandya in the Har Ghar Tiranga campaign will influence the cricket-based audience to take part in the movement.
The campaign hopes in invoking the feeling of patriotism in the hearts of people & to promote awareness about the National flag. The movement is using different celebrities from different sectors across the country who represented India in some or the other form.
The government has taken all the measures in ensuring that there is enough supply of national flags across the country. Flags will now be available in all the post offices in the country along with the government's e-market sites like (Gem) portal, e-commerce portals, and various self-help groups (SHGs).
As we Hoist the flag as a part of the Har Ghar Tiranga Initiative, these very thoughts will be echoing in every Indian's heart.