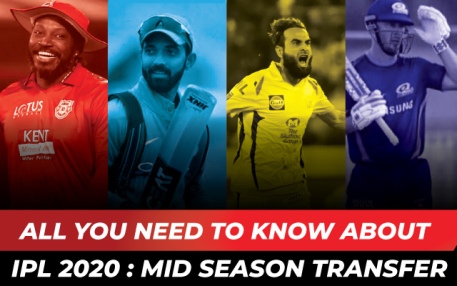 Positive sides of the mid-season transfer window:
Many talented cricketers who have not got that many opportunities in the ongoing 13th edition of the Indian Premier League and are in the bench players, will have the chance to include in other teams.
With the involvement of the mid-season transfer window from 2019 IPL, the audience can see a couple of their stars in action, but for other franchises. The rules have changed in this season slightly.
 So far, all the sides have played 7 games, the mid-season transfer window is applicable from 13th October (Tuesday). The IPL franchises can take out overseas and Indian cricketers under this rule. From this edition, this rule applies to both capped and uncapped players.
Window:
For the 2020 IPL, the mid-season transfer window will apply for five days, beginning from 13th October (Tuesday).
Eligibility:
As per the mid-season transfer window, both uncapped and capped cricketers, overseas, and Indians will get the opportunity to find new squads, depending on the mutual agreement upon loan fees, etc.
Criteria:
According to the rules, the cricketers who are being loaned should not appear in more than two matches. According to the mutual understanding of two franchises, the loans will be carried out. For all these types of transfers, the IPL Governing Council will need to be instructed.
Is the procedure is a permanent one?
No, the transfer is only applicable to the current edition only. Let's take an example: in case Chris Gayle is traded to include in Chennai Super Kings (CSK), according to the 2020 IPL mid-season transfer rules, Chris Gayle will be playing for the team CSK for this current season and have to come back to Kings XI Punjab, which is his current team in 2021 IPL.
The big catch:
According to the 2020 IPL mid-season transfer rules, a traded cricketer can't play against his parent side. For example: in case Chris Gayle is traded for CSK in this season, then he can't play in the opposition of KXIP in this season.
A chance for the franchises to replace injured cricketers:
The current season is full of injuries. Bhuvneshwar Kumar (SRH), Ishant Sharma (DC), Amit Mishra (DC) and Mitchell Marsh (SRH) have been ruled out already of the 2020 IPL because of injuries. The mid-season transfer will be very helpful for those sides who are searching for their players' replacements, for the team replacements haven't been declared yet, though this will require permission from IPL Governing Council. Maximum teams though interest in the option to take unsold players at their basic cost, after the approval of the IPL Governing Council.
Cricketers who can find new teams:
Imran Tahir of Chennai Super Kings, Ajinkya Rahane of Delhi Capital, and Chris Lynn of Mumbai  Indians are the big players, other teams can consider to include their teams.