Micoud Eagles will be up against Choiseul Clay Pots in the final of the St Lucia T10 Blast. The game is scheduled to be played at the Daren Sammy National Stadium on Friday, May 14 at 11 PM IST. Here are ME vs CCP Dream11 predictions.
ME vs CCP Dream11 Preview
The Micoud Eagles are the team to beat this season in the St Lucia T10 Blast tournament. They managed to win six out of seven games this season. The Daren Sammy-led side has been dominating with their bat. The Eagles will surely enter the finals as favourites. As for Choiseul Clay Pots, they also made a strong mark in the entire season. They have the calibre to give a tough fight to the Eagles in the finals.
ME vs CCP Dream11 Team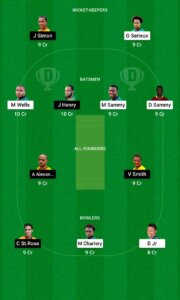 ME vs CCP Dream11 Full Squads
Micoud Eagles
Daren Sammy, Darren Sammy Jr, Ryon Charles, Winnel Felix, Egbert Henery, Tarrique Edward, Zavier Bideau, Mervin Wells, Ted Mathurin, Earvin Frederick, Kern Xavier, Michael Charlery, Erwin Lubin, Kuston Jules, Travis Gifford, Karon Maximin, Lanse Sammy, Bernard Calix, Brendon Bicar, Garvin Serieux Sr, Murlan Sammy, Garvery Mitchell, Ryan Langillier, Shervin Charles, Shem Paul and Garvin Serieux Jr.
Choiseul Clay Pots
Nick Joseph, Bronte Bess, Clem St. Rose, Stephane Theophane, Junior Henry, Audy Alexander, Alvinaus Simon, Canice Richardson, Sky Lafeuillee, Valange St. Ange, Vince Smith, Tristan Norbal, Jason Simon
ME vs CCP Dream11 Predicted XI
Micoud Eagles
Garvin Serieux Jr. (wk), Mervin Wells, Shervin Charles, Daren Sammy (c), Murlan Sammy, Kuston Jules, Earvin Frederick, Tarrique Edward, Micheal Charlery, Travis Gifford, Lanse Sammy
Choiseul Clay Pots
Jason Simon (wk), Junior Henry, Nick Joseph, Canice Richardson, Alvinaus Simon, Valange St. Ange, Audy Alexander (c), Vince Smith, Clem St. Rose, Sky Lafeuille, Stephane Theophane
ME vs CCP Dream11 Match Prediction
Our ME vs CCP Dream11 match prediction is that Micoud Eagles will win the match.
Disclaimer: The Dream11 predictions are based on our analysis and they do not promise fixed results.