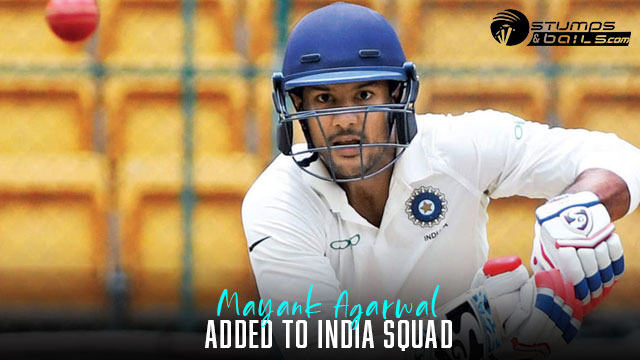 For the Test match against England at Edgbaston, which begins on July 1, India has called up opener Mayank Agarwal.

India is still awaiting word on Rohit Sharma, who is being held in isolation after testing positive for COVID-19. They have not yet issued a statement on the leadership switch, and it is believed that they would only make a decision after closely monitoring Rohit's condition closer to the game.

If Rohit is unable to combine with Shubman Gill throughout the Test, they might be further hindered at the top as they are already without the services of their other usual Test opener, KL Rahul, who is nursing an injury.

So, with no present requirement for quarantine in England, Mayank has been called up as a standby with the prospect that he may be ready right away.

Agarwal's most recent Test came in March against Sri Lanka; as a result, he was not included in the first team chosen for this Test.

Before a COVID-mandated hiatus ended India's trip last year, the series was already tied at 2-1. The Edgbaston Test is slated to be the series' last Test.

Agarwal is reportedly scheduled to go to England on Monday to join the rest of the team. According to the most recent government regulations, the right-hander won't be subject to any mandatory quarantines and will be ready to play straight away if needed.

The 31-year-old was initially not selected for the England Test match because KL Rahul was chosen by the BCCI ahead of him. However, KL Rahul's injury prevented him from participating in the England trip at all. In March, Agarwal made his final appearance for India in a home Test match against Sri Lanka.