ABOUT THE MATCH
The West Indies came into this tournament with a lot of expectations. There were many people that were calling the West Indies dark horses, but things have not panned out that well.
India is still unbeaten in the ICC World Cup 2019 although they came very close to losing to Afghanistan. That match would have been a wake-up call for the Indian team who are serious title contenders.
India vs West Indies ICC World Cup 2019 is going to be played at Old Trafford, Manchester on the 27th of June.
TOSS PREDICTION
The team winning the toss is likely to want to bat first. The pitch starts to slow up a little and help the spinners so bowling second is definitely going to be an advantage
PITCH AND CONDITIONS
India vs West Indies ICC World Cup 2019 is going to be played at Old Trafford, Manchester. The weather forecast for the match is quite good and we should not have any trouble getting a full match.
The pitch in Manchester is good for batting. It helped the spinners a little in the previous matches and we are sure that is going to be the case this time around also.
The big outfields are helpful for the spinners as well.
Individual Team Winning Percentage: 

Top Order Analysis:
India 's top order has maintained more consistency in scoring runs.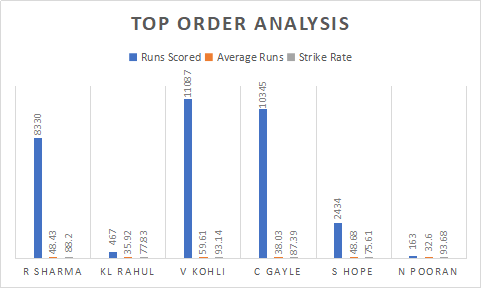 Middle Order Analysis:  
Both, the teams middle order is of hard hitters.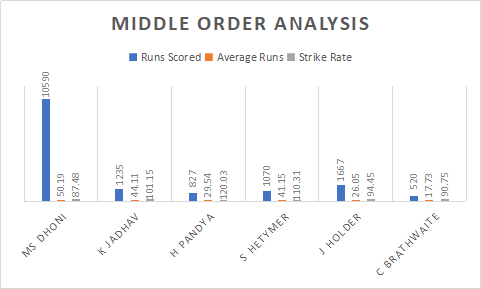 Top Order and Middle Order Analysis:
India's top and middle order maintained good average runs than west indies.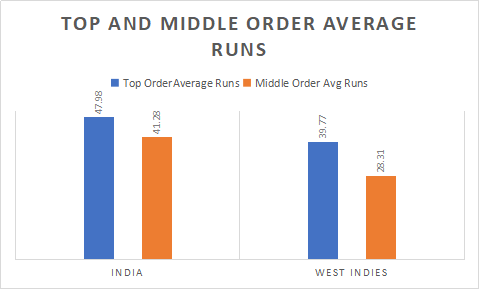 Top bowlers Analysis:
India, bowling looks much stronger than west indies.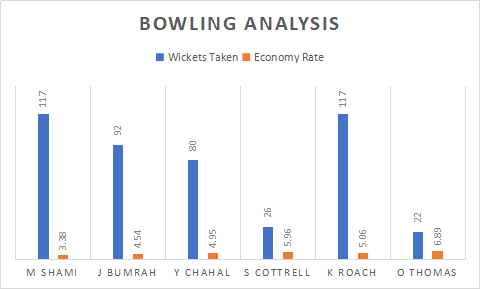 MATCH PREVIEW
WEST INDIES
The West Indian players are very familiar with the Indian players since so many of them play in the IPL. West Indies also had a pretty good ODI series against India earlier this year.
We don't have much hope from them in this match, though. The West Indian batting has depended on individual brilliance to carry them through instead of a deliberate plan.
The only win they registered was when they were chasing down a small total. Against the Indian batting, the West Indies bowling will hope to have their best day of the tournament so far.
The West Indies have a lot of players that are good for small cameos but they need a couple of match-winning knocks now.
| | | |
| --- | --- | --- |
| Top 3 batsman West Indies | Top 3 Middle Order West Indies | Top 3 Bowler West Indies |
| C Gayle | S Hetymer | S Cottrell |
| S Hope | J Holder | K Roach |
| N Pooran | C Brathwaite | O Thomas |
INDIA
Every team knew that India's middle order is vulnerable and can be put under pressure, but it was only Afghanistan that was able to do it.
India's top order has been scoring runs against each and every opponent but early wickets against Afghanistan showed just how India can be beaten.
Against the West Indies, India is going to be facing another weak bowling attack so the opportunity to fine-tune the batting order is still there.
While India's batting is still coming together, it's bowling has been brilliant.
This Indian bowling lineup is going to be very difficult for the West Indian batsmen to be able to score against.
| | | |
| --- | --- | --- |
| Top 3 batsman India | Top 3 Middle Order  India | Top 3 Bowler  India |
| R Sharma | MS Dhoni | M Shami |
| KL Rahul | K Jadhav | J Bumrah |
| V Kohli | H Pandya | Y Chahal |
OUR FANTASY LEAGUE PICKS FOR West Indies VS India 34TH

 ODI ICC CRICKET WORLD CUP 2019 ARE MENTIONED BELOW:
| | |
| --- | --- |
| IF India Bat First | IF West Indies Bat First |
| R Sharma | S Hope |
| V Kohli | C Gayle |
| K Jadhav | C Braithwaite |
| H Pandya | J Holder |
| Y Chahal | S Cottrell |
| J Bumrah | O Thomson |
| K Roach | Y Chahal |
| S Cottrell | J Bumrah |
| C Braithwaite | H Pandya |
| C Gayle | R Sharma |
| N Pooran | KL Rahul |