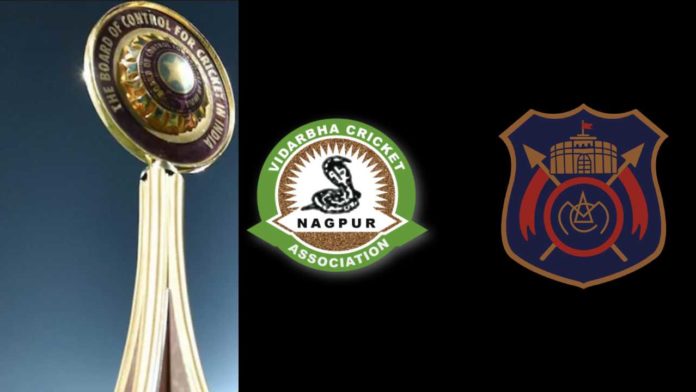 ABOUT THE MATCH
The Round-4 Elite Group A and B match between Vidarbha and Maharashtra of Vijay Hazare Trophy 2019 will be played on 17th October at the Gujarat State Fertilizer Corporation Ground, Vadodara.
Vidarbha has played 8 matches in the league, out of which it has won two matches with three of them ending with no result. Vidarbha is placed at 10th position in the Elite Group A table.
Maharashtra has also played 8 matches in the league. It has won only 1 match and 5 matches ended without any result. In spite of winning only one match, Maharashtra is placed above Vidarbha in the 9th position.
PROBABLE PLAYING XI OF Vidarbha
Faiz Fazal (captain), Ganesh Satish, Apoorv Wankhade, Akshay Wakhare, Jitesh Sharma (wicketkeeper), Aditya Sarwate, Akshay Karnewar, Rajneesh Gurbani, Akshay Wadkar, Yash Thakur, Atharwa Taide
PROBABLE PLAYING XI OF Maharashtra
Swapnil Gugale, Ruturaj Gaikwad, Ankit Bawne, Kedar Jadhav (captain), Rahul Triphati, Naushad Shaikh, Avdhoot Dandekar (wicketkeeper), Samad Fallah, Satyajeet Bachhav, Nikit Dhumal, Azim Kazi
MATCH PREVIEW
Vidarbha
Vidarbha lost its last match against UP by 109 runs. The bowling and batting failed totally, but they are expected to give their best in this match.

Yash Thakur is the most experienced bowler of this team, picking up a three-wicket haul in the last match.

Akshay Karnewar has excelled with his bat scoring half-century over UP.

Faiz Fazal and Jitesh Sharma will be opening the innings for Vidarbha for the upcoming match with Maharashtra.

Jitesh, a wicket-keeper batsman, contributes well with the bat while Fazal is in good form, but lacks consistency.
Maharashtra
Maharashtra lost its last match against Punjab by 8 wickets.

Satyajeet Bachhav and Azim Kazi were its best bowlers, picking up 4 wickets each in their last match.

Rituraj Gaikwad and Rahul Tripathi will be opening in the match.

Rituraj scored 14 runs in the last match while Tripathi scored only 9 runs, struggling with only one fifty in 6 matches.
PROBABLE WINNING TEAM:
Maharashtra has an upper hand over Vidarbha, so we back Maharashtra in this encounter.  
Click Here for Fantasy Picks.