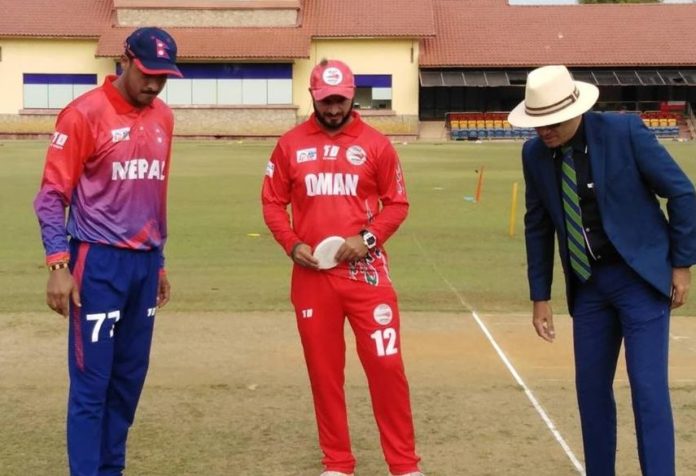 ABOUT THE MATCH
Oman will be taking on Nepal in this tenth and final fixture of the Oman pentangular T20 international series. The match is scheduled to be played on October 10 at the Al Amarat Cricket Ground Oman Cricket in Al Amarat which will begin at 2 PM local time.
PROBABLE PLAYING XI OF OMAN
Khawar Ali, Jatinder Singh, Aqib Ilyas, Zeeshan Maqsood (c), Aamir Kaleem, Khurram Nawaz, Sandeep Goud, Suraj Kumar (wk), Mohammad Nadeem, Fayyaz Butt, Bilal Khan
PROBABLE PLAYING XI OF NEPAL
Paras Khadka (c), Ishan Pandey, Aarif Sheikh, Dipendra Singh Airee, Binod Bhandari (wk), Sundeep Jora, KC Karan, Sompal Kami, Sandeep Lamichhane, Lalit Rajbanshi, Abinash Bohara
MATCH PREVIEW
OMAN
Oman has a good batting line-up with the likes of Zeeshan Maqsood, Jatinder Singh and Khawar Ali as its key figures.
Being the highest run-getter of the team, Zeeshan Maqsood will be expected to lead from the front and play a big knock in this match.
Jatinder Singh, with a decent batting record in T20Is, has to take on the responsibility as an opening batsman to build a strong platform.
Oman will be counting on its key bowlers Bilal Khan, Mohammad Nadeem, and Aamir Kaleem to deliver perfect knockouts.
Being the most successful bowler of Oman, Bilal Khan will be looking to diminish Nepal's innings in the powerplay.
Moreover, the team wants Mohammad Nadeem, one of the leading wicket-taker in this series, to keep things tight again.
NEPAL
Nepal had a good series with their key batsmen Paras Khadka, Binod Bhandari and Dipendra Singh Airee, and wants them to go with the same intent on Thursday as well.
The team's leading run-getter in the T20 internationals Skipper Paras Khadka is expected to make a major contribution in this match.
Nepal's middle-order batting depends mainly on their wicket-keeper Binod Bhandari who has looked their best batsman in this series.
Nepal is going with a few good bowlers in Sandeep Lamichhane, KC Karan and Abinash Bohara.
KC Karan bagged the most wickets for the team in T20Is and will be looking to hold  Oman in the middle overs.
The leg spinner Sandeep Lamichhane has been doing a fabulous job for his side and is coming on the back of a good performance against Ireland.
PROBABLE WINNING TEAM:
Oman and Nepal have both been giving a tough fight in this series. But Nepal, the better side, considering the balance of the team and with a stronger bowling group is the favorite to win.
Click Here for Fantasy Picks.