ABOUT THE MATCH
The ICC World Cup 2019 Final is going to be played between England and New Zealand. England defeated Australia to enter the World Cup final for the fourth time in its history. They are still looking for its first Trophy. The entire Nation will be watching to see if it can take those final steps towards the cup.
New Zealand was in the cricket world cup final during 2015 as well. This is now the second successive time it has managed to reach the World Cup Final, a great achievement for a cricketing country with a small population.
New Zealand has also never won the cricket world cup title but defeating India in a thriller would have given it the confidence it needs ahead of this match.
England vs New Zealand ICC World Cup 2019 Final is going to be played at Lord's, London on the 14th of July 2019.
TOSS PREDICTION
The team winning the toss is going to bat first. All previous matches played at Lord's in this world cup have been won by the side batting first. Winning the toss here is a big advantage.
PITCH AND CONDITIONS
England vs New Zealand World Cup 2019 final is going to be played at Lord's, London. An excellent day for cricket is expected in London on Sunday. No chance of rain and the sun should be shining on us for the entire duration of the match.
The pitch at Lord's is going to be very closely watched. There have been five matches played here in the ICC World Cup 2019 so far, and all of them have been won by the team batting first. The margins of victory have also been very large with 49 runs being the least among them.
This suggests that the pitch is going to slow down as the match progresses. The team batting first will have the best of the conditions and it is going to become progressively harder as the match goes on.
Individual Team Winning Percentage: 

Top Order Analysis:
England, top order looks stronger than New Zealand.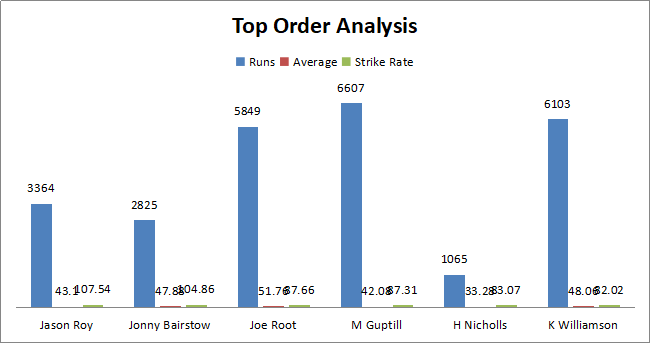 Middle Order Analysis:  
England, middle-order looks stronger than New Zealand.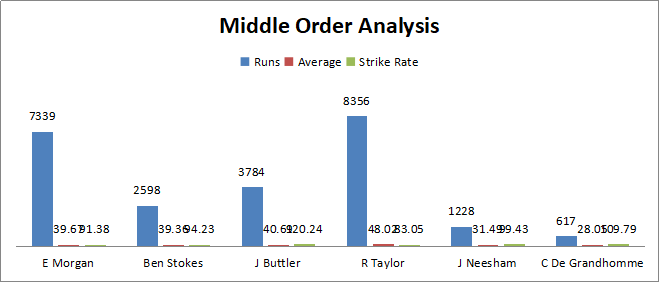 Top Order and Middle Order Analysis:
England looks strong in both the top and middle-order average.

Top bowlers Analysis:
Both, teams bowling looks balanced.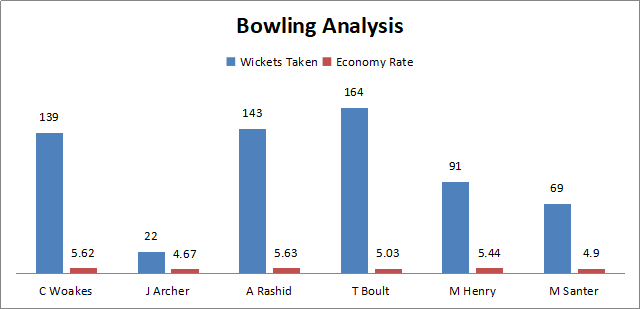 MATCH PREVIEW
NEW ZEALAND
An exciting semi-final played over two days against the pre-tournament favorites would have left New Zealand out of breath but it has no time to slow down. Up next is England, who were standing number one ranked team in the world recently and the most successful ODI team since 2015.
We think New Zealand is going to be pleased with playing England in Lord's. As a venue, Lord's has been the lowest-scoring ground in England over the last few years and these are usually the kind of surfaces that can trip England up.
New Zealand also has the best bowling attack in this world cup in terms of collective economy rate and average. Their bowling uniquely suited to keep runs down which is going to be more apparent if the surface becomes slower.
New Zealand lost three matches during the tournament. It is not a perfect side and is definitely beatable. The same is true for England and that is what New Zealand must remember.
| | | |
| --- | --- | --- |
| Top 3 Batsman New  Zealand | Top 3 Middle Order New Zealand | Top 3 Bowlers New Zealand |
| M Guptill | R Taylor | T Boult |
| H Nicholls | J Neesham | M Henry |
| K Williamson | C De Grandhomme | M Santer |
ENGLAND
England has been in position from where it cannot afford to lose for the last three matches now and that seems to have switched on something within this team. Left with no option but to win, England has chosen to stick with its attacking instincts and is now the closest it has been to win the cricket world cup in the last 27 years.
Jason Roy has been more aggressive and left more of an impact than any other player in the England team.
His wicket is going to be very important for England because he sets the tone for the entire match.
England's batting is the strongest in the cricket world cup 2019. The only time this batting lineup has failed is during chases where it has lost a few early wickets.
We don't expect any changes in the England lineup for this match. The players will just need to be careful of not letting any occasion to get to them.
Adil Rashid picked up two very important wickets in the sem-final and with the Lord's surface giving some help the spinners in recent times, he will play a crucial role in the final as well.
There is no reason why England should not win this match. It has a settled team that is playing in its home conditions against an opponent that has dominated in recent times.
This is the match what the England team has been working towards for the last four years and it is time to reap the reward.
| | | |
| --- | --- | --- |
| Top 3 Batsman England | Top 3 Middle Order England | Top 3 Bowlers England |
| Jason Roy | E Morgan | C Woakes |
| Jonny Bairstow | Ben Stokes | J Archer |
| Joe Root | J Buttler | A Rashid |
OUR FANTASY LEAGUE PICKS FOR New Zealand VS England FINAL

 

ICC CRICKET WORLD CUP 2019 ARE MENTIONED BELOW:
| | |
| --- | --- |
| IF England Bats First | IF New Zealand Bats First |
| J Bairstow | T Latham |
| J Root | R Taylor |
| J Roy | M Guptill |
| B Stokes | K Williamson |
| C Woakes | M Santer |
| J Archer | M henry |
| M Henry | T Boult |
| M Santer | B Stokes |
| M Guptill | J Root |
| K Williamson | J Roy |
| T Latham | C Woakes |
*Disclaimer: This team is based on the understanding, analysis, and instinct of the author. While selecting your team, consider the points mentioned and make your own decision.*