About the Match
India is still unbeaten in the ICC World Cup 2019. England is under very little pressure in this match and they hope to play freely against India. England has a lot more at stake and does not want to lose this match. While the result of this match is of great consequence, both teams would be keen to win this contest.
This is one of the most highly awaited matches of the cricket world cup 2019.
England vs India ICC World Cup 2019 is going to be played at Edgbaston on the 30th of June 2019.
TOSS PREDICTION
The team winning the toss is going to want to bat second. The overcast conditions have helped the fast bowlers at Edgbaston and both teams will want to gain that advantage.
PITCH AND CONDITIONS
The match is going to be played at the Edgbaston, Birmingham.
A score of around 300+ can be expected to be scored if played 50 overs.
Individual Team Winning Percentage: 

Top Order Analysis:
Both, the teams top order looks much consistent in scoring a huge amount of runs.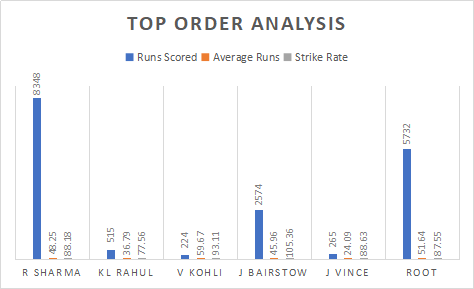 Middle Order Analysis:  
Both the team's middle order looks similar to power hitters.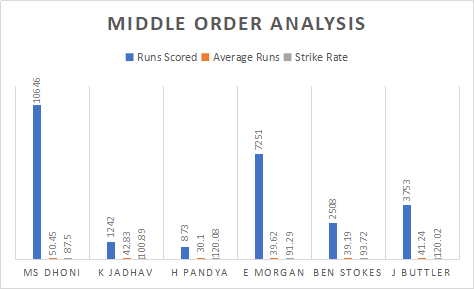 Top Order and Middle Order Analysis:
India 's top order looks high than England top order. As middle order looks mostly similar.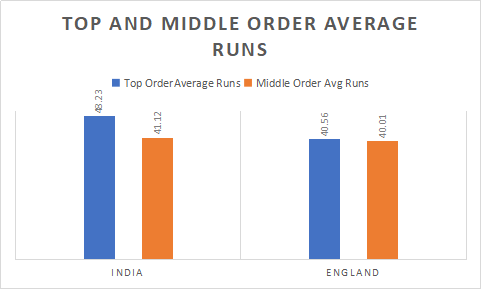 Top bowlers Analysis:
Both, the teams bowling looks similar in taking a wicket and maintain economy rate.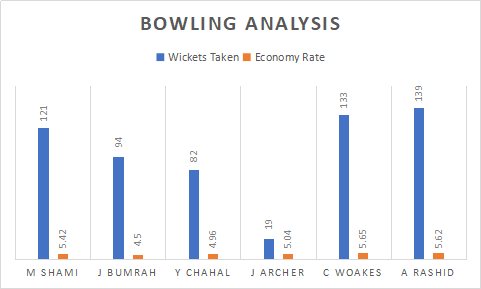 Match Preview
INDIA
Every team knew that India's middle order is vulnerable and can be put under pressure, but it was only Afghanistan that was able to do it.
India's top order has been scoring runs against each and every opponent
Against England, India is going to be facing another strong bowling attack so the opportunity to fine-tune the batting order is still there.
While India's batting is still coming together, its bowling has been brilliant.
This Indian bowling line-up is going to be very difficult for the England batsmen to be able to score against.
| | | |
| --- | --- | --- |
| Top 3 batsman India | Top 3 Middle Order  India | Top 3 Bowler India |
| R Sharma | MS Dhoni | M Shami |
| KL Rahul | K Jadhav | J Bumrah |
| V Kohli | H Pandya | Y Chahal |
ENGLAND
England now needs extra motivation for this match against India but now that the stakes are high, it will be interesting to see how they turn up.
Everyone expects England to win and they are playing at home, so it is understandable the amount of scrutiny they are under.
There is also a sense of impending doom by a country that has seen its cricket team self-destruct on several occasions. Will the shock loss against Sri Lanka and Australia open up some of these old wounds?
England has played a very high-tempo form of cricket ever since its disastrous 2015 campaign. Now, its entire team has been set-up to be aggressive from the start. This is a tactic that works well when the pitch is flat for batting and there is not too much riding on the outcome.
Unfortunately for England, it appears like the pitches are going to get slower as the tournament progresses, and the pressure is only going to ramp up. This is why England needs to show a bit more flexibility than it has so far.
| | | |
| --- | --- | --- |
| Top 3 batsman England | Top 3 Middle Order England | Top 3 Bowler England |
| J Bairstow | E Morgan | J Archer |
| J Vince | Ben Stokes | C Woakes |
| Root | J Buttler | A Rashid |
OUR FANTASY LEAGUE PICKS FOR England VS India 38TH

ODI ICC CRICKET WORLD CUP 2019 ARE MENTIONED BELOW:
| | |
| --- | --- |
| IF India Bat First | IF England Bat First |
| M Dhoni | J Buttler |
| R Sharma | E Morgan |
| V Kohli | J Vince |
| KL Rahul | J Root |
| H Pandya | B Stokes |
| Y Chahal | C Woakes |
| M Shami | J Archer |
| C Woakes | Y Chahal |
| J Archer | M Shami |
| B Stokes | H Pandya |
| J Buttler | R Sharma |