ABOUT THE MATCH
England finally triumphs after four years of preparation. England came into the tournament as the clear favorite with a team that had no apparent weaknesses.
Australia has received a lot of banter from England supporters and former players in recent times. Now that the fact they can make things difficult for England and put in a psychological blow ahead of the Ashes is not going to be wasted on them.
This is one of the most highly awaited matches of the cricket world cup 2019.
England vs Australia ICC World Cup 2019 is going to be played at Lord's London on the 25th of June 2019.
TOSS PREDICTION
The team winning the toss is going to want to bat first. England does tend to prefer chasing down a total, but this is an important match they may re-think their strategy.
PITCH AND CONDITIONS
England vs Australia ICC World Cup 2019 is going to be played at Lord's, London. The weather has improved considerably in the United Kingdom but some rain has been forecast in London on match day.
We don't think there is going to be enough rain to affect the match, but we may get some delays.
The pitch at Lord's was excellent for batting in the match between the West Indies and New Zealand. We expect the same in this match and plenty of runs to be scored. These are two strong batting sides and we expect a score of 330 to be par.
Individual Team Winning Percentage: 

Top Order Analysis:
Both, the team's top order has good consistent run-scorers.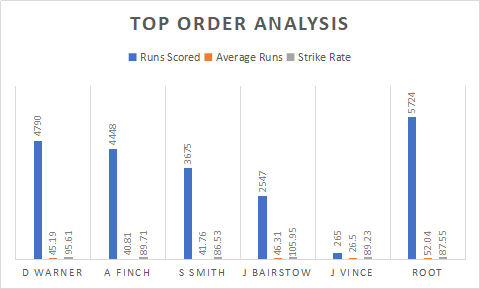 Middle Order Analysis:  
Both, the teams middle order also consistent players and has power hitters.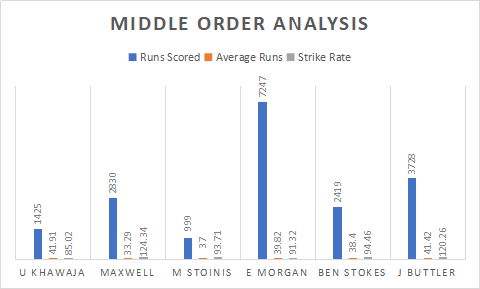 Top Order and Middle Order Analysis:
Both, the team's top and middle order looks similar.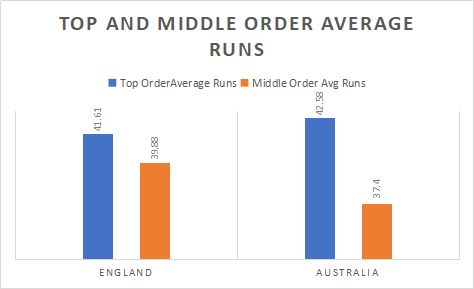 Top bowlers Analysis:
Both, teams bowling performances are looking similar in maintaining the economy and taking wickets.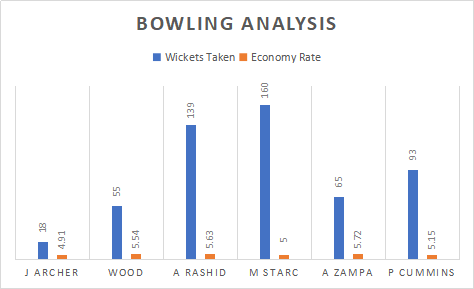 MATCH PREVIEW
ENGLAND
England does not need any extra motivation for this match against Australia but now that the stakes are high, it will be interesting to see how they turn up.
Everyone expects England to win and they are playing at home, so it is understandable the amount of scrutiny they are under.
There is also a sense of impending doom by a country that has seen its cricket team self-destruct on several occasions. Will the shock loss against Sri Lanka open up some of these old wounds?
England has played a very high-tempo form of cricket ever since its disastrous 2015 campaign. Now, its entire team has been set-up to be aggressive from the start. This is a tactic that works well when the pitch is flat for batting and there is not too much riding on the outcome.
| | | |
| --- | --- | --- |
| Top 3 batsman England | Top 3 Middle Order England | Top 3 Bowler England |
| J Bairstow | E Morgan | J Archer |
| J Vince | Ben Stokes | Wood |
| Root | J Buttler | A Rashid |
AUSTRALIA
David Warner and Aaron Finch are in prime form for Australia and showing just how dangerous their side can be.
Warner, Finch, Khawaja, and Smith are a very strong top 4. They look stronger than England at the moment and that is something that should scare all the other teams.
Australia middle-order, there is no shortage of six-hitting power in this team either.
Mitchell Starc, on the other hand, has just relied on fast toe-crushing Yorkers to get him the wickets.
One of the few weaknesses for Australia in this tournament has been its team selection. They have refused to pick Nathan Lyon in the playing eleven but may want to re-consider that against England since they have struggled against spin.
| | | |
| --- | --- | --- |
| Top 3 batsman Australia | Top 3 Middle Order Australia | Top 3 Bowler Australia |
| D Warner | U Khawaja | M Starc |
| A Finch | Maxwell | A Zampa |
| S Smith | M Stoinis | P Cummins |
OUR FANTASY LEAGUE PICKS FOR England VS Australia 32nd

 ODI ICC CRICKET WORLD CUP 2019 ARE MENTIONED BELOW:
| | |
| --- | --- |
| IF England Bat First | IF Australia Bat First |
| J Buttler | D Warner |
| E Morgan | A Finch |
| J Root | U Khawaja |
| B Stokes | G Maxwell |
| C Woakes | M Starc |
| J Archer | P Cummins |
| G Maxwell | M Wood |
| A Finch | J Archer |
| U Khawaja | B Stokes |
| M Starc | E Morgan |
| P Cummins | J Buttler |