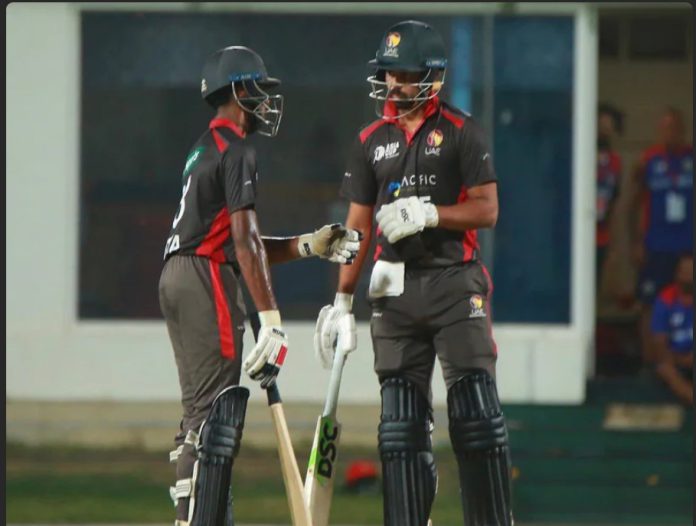 The Asia Cup 2022 is around the corner and teams are fighting their heart out to qualify for the Asia Cup tournament and represent their country in one of the biggest tournaments in Asia.
The Asia Cup qualifiers are currently ongoing and the third match was held between UAE and Singapore in AL Amerat cricket stadium on Monday.
Singapore won the toss and decided to bowl first, UAE came to bat first where they lost one of their openers (Chirag Suri) but Muhammad Waseem smashed the balls all over the park scoring 58 runs from 34 deliveries with five sixes and three boundaries, Waseem was paying well but later fell prey to Janak Prakash.
Basil Hameed also tried to stand strong but failed to carry forward the innings further as he got run out after scoring 38 runs from 28 balls. The UAE side struggled to stand strong but where were only able to score 160 for 8 wickets in 20 overs.
The Singapore bowlers tried their best to stop the run flowing from the UAE batsman but only Janak Prakash was able to pick up three wickets for 35 runs in his 4-over spell with an average of 8.75.
Singapore in reply tried to start their innings decently but failed to do so after the opener Surendran Chandramohan was sent back to the pavilion early, Aritra Dutta the other opener tried to build the innings but was only able to score 42 runs in 29 balls with four sixes and one boundary.
The UAE bowlers tore apart the Singapore batsman as two bowlers from the UAE team were able to pick up 3 wicket haul to stop the Singapore side from chasing down the target.
Junaid Siddique picked up three wickets for 14 runs in his 3-over spell with an economy of 4.66, and Karthik Meiyappan was the star bowler as he also managed to pick up three wickets for 13 runs in his four-over spell with an economy of 3.25. Karthik was later awarded Man of the Match for his amazing spell.
UAE is in pretty good form and they will be hoping that they qualify for the Asia Cup as the tournament is been held in UAE, so it will be a big boost if they qualify for the Asia Cup and make their nation proud.