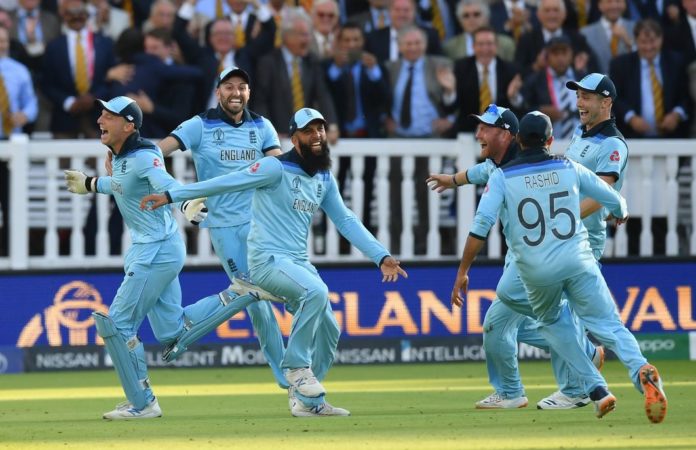 WHAT A GAME THIS WAS! Surely worthy of a final. Also, to remind you all, we still do not have a clear winner. Even the Super Over was a tie. England won as they hit more boundaries. For now, let us summaries the game right from the start as it seems a long time from the start of the game.
242, did seem a challenging target as the wicket was not an easy one and England struggled throughout their innings. They lost Roy early. New Zealand then choked the runs and that pressure saw Root, Bairstow, and Morgan gets dismissed.
Though Buttler and Stokes started the fightback, a 100-plus runs stand saw them get on top of the game. Both got to half tons in the same over. However, the game once again changed in the 45th over when Buttler held out. Stokes kept losing partners and the task was getting difficult for him. They were in a need of 15 runs in the last over.
Even when they were to bat the last 4 balls they still need 15 to beat the score. A biggie then and a fortunate overthrow saw them needing 2 on the very last ball which was hit for a single.
It all began with a delay as the toss was pushed 15 minutes further which eventually was won by the Kiwis. They elected to bat. However, it wasn't a great day with the bat for them as they managed to crawl their way to 241 after exceptional efforts with the ball by Plunkett and Woakes.
The Kiwi batters like, Nicholls who scored a half-ton, Williamson and Latham did get off to starts but no one managed anything very significant.
It then went down to the Super Over! England batted first there. They smashed their way to 15 and set New Zealand a target for 16. New Zealand too started brilliantly, especially when Neesham hit that six, New Zealand were favorites to lift it. However, it is Archer who kept his cool with New Zealand needing two runs on the last ball to win the game. He conceded only one to help ENGLAND CREATE HISTORY!
Eoin Morgan | England Captain:
Says there was not a lot in the game, the spirit, the fight New Zealand showed was very commendable and today was a hard game. States on a tough wicket they managed to restrict them to a good score but they kept losing wickets. Buttler and Stokes' partnership took it deep. States they have developed a lot in the last 4 years, they struggle on such wickets but today was about getting over the line and it means a lot them. Mentions the guys in the middle kept them really cool, they have some of the best players in the World and there was not a lot between the two sides. Credits Buttler and Stokes and also Archer for the way he bowled. Appreciates Archer for his effort and says he keeps improving. Ends by saying it has been an incredible transformation and there have been a lot of people involved, even the players who missed out due to injury are a part of this.
Kane Williamson | New Zealand Captain:
Says that it was a good decision to bat as the pitch was on the drier side. Says that they wanted to put runs on the board, admits he would have wanted 10-15 runs more but the pressure of Final meant it was a good target. Credits his boys for building the pressure. Further credits England for the way they played and congratulates them for their victory. On the Stokes incident, he says it was a shame but reckons that's the game they play and they have to accept it. Says bowling Neesham from the downslide was a risk but it was worth it and it paid off.
Ben Stokes | Man of the Match:
Stokes says that it is a good feeling. Tells all the hard work in the last 4 years has paid off. This was the place they wanted to reach and they have. Thanks to the fans for their support. Tells him and Buttler just wanted to take it deep and they also wanted to make sure that the run rate did not shoot up. Smiles and says he definitely was not going to bowl the Super Over. Says that he is a professional cricketer and he was ready to bat and credits Archer for bowling that Super Over. Stokes then adds that the support from the fans, friends, and families was unbelievable.
Player of the Tournament | Kane Williamson:
says he would swap both the trophies for one extra run. States It is not only the one run but there were many decisive moments. Congratulates England for the way they played. Mentions the pitches have been different from what they expected, there has not been a lot of high scores. Tells they showed a huge amount of heart to get to this stage and is happy with how they played throughout. Ends by saying the guys are shattered at the moment, it is very devastating, this is very tough to swallow but he is happy with how they played.
Liam Plunkett says it was a great day and tells it was an unbelievable game of cricket. Credits New Zealand for the way they played. On how it felt to bat after bowling so well, Plunkett says the idea was just to give as much strike to Stokes and even when he got caught he knew they had batters who could finish the game and take them over the line.
Root says that it is an unbelievable feeling. Tells everyone had done everything and they have come through the tough situation, especially in the group stage. Says he is happy for Stokes as proved himself and everyone else.
Jonny Bairstow says he is elated and says it was one hell of a game and it has been one hell of a tournament. Buttler now says it is unbelievable, he felt he saw everything in cricket but this was something else. Bairstow then adds that the Kiwis bowled pretty well, New Zealand then got them under a lot of pressure but the way Stokes and Buttler played was brilliant. Buttler then informs they wanted to take it deep. Further adds the run rate would not be an issue if they were there till the end and they just wanted to keep going and what happened, in the end, was unbelievable. Bairstow ends by saying the atmosphere was brilliant, to playing at Lord's is one thing and to play a World Cup finals is something different.