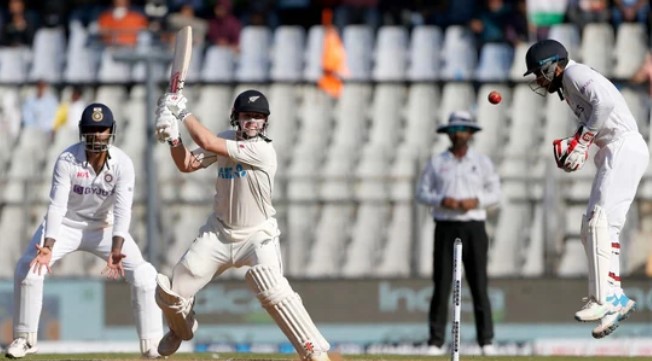 Longest Winning Streak For New Zealand in ODI's
New Zealand beat India in the first ODI by 7 wickets at Eden Park in Auckland
New Zealand beat India: Long-winning streaks are a strong indicator of dominance. It serves as a quantifiable gauge of a team's dependability on the field, which, more often than not, translates into enduring legacies. New Zealand has long been a player to watch in cricket, particularly in the One Day International (ODI) format. The Kiwis went on an unmatched winning streak, especially with Kane Williamson serving as captain.
New Zealand has been a prominent force in the current white-ball format, where they reached the Semi-finals of the champions trophy, the finals of the ICC ODI world cup 2019, reached till the semi-finals of the ICC T20 World Cup final 2022. New Zealand has proven to be a match-winner in recent years.
Kiwis winning steak at home
New Zealand has a strong line-up of batters and bowlers who can win the match single-handedly. New Zealand now holds the record for the longest ODI winning streak on their home soil.
This is the first time that New Zealand has won their 13th ODI match in a row and that too in their home ground. The winning streak speaks a lot about the kind of players a team has and how good the team's consistency is.
Longest Winning Streak For New Zealand in ODI's at Home
13 wins: Feb 2019 – Till Date*
12 wins: Jan – Dec 2015
9 wins: Dec 2017 – Feb 2018
Nz vs Ind Match Summary
India was in the lead at the time while New Zealand was having trouble getting going. But the batting that came afterwards was simply brilliant. He came out looking fluid, reached his half-century at almost a run-a-ball, and then took his performance to a whole other level starting in the 40th over.
In that particular over, Thakur insisted on only bowling short deliveries, which Latham kept hitting into the boundary. He completely destroyed India with a six and four straight fours. The only person to bother him was Umran, and he had a strong performance.
Washington also used the money wisely. But besides those two, the rest of them were pummelling. Fair enough, this pitch had much more to offer than what India had scored in the first Innings
Can India bounce back in the second ODI?
With Latham's special strike, New Zealand now leads the series 1-0. As Dhawan noted, this young Indian team has a lot to learn. Are they able to recover in Hamilton for the second ODI on Sunday?