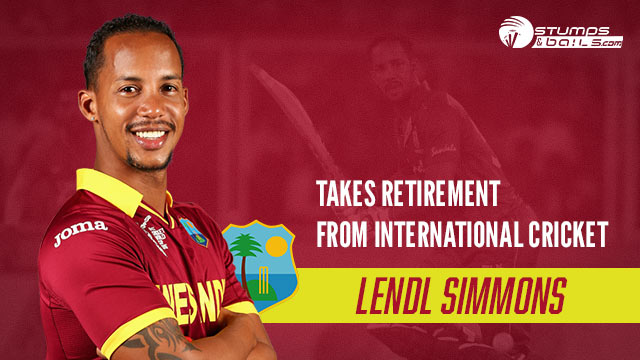 West Indies opener Lendl Simmons on Tuesday announced his retirement from international cricket with immediate effect.
The ex-Mumbai Indian player took to his Social Media account to share the news, he said, "When I wore the Maroon Colours of the West Indies Cricket for the first time on debut in ODIs on December 7th, 2006, little did I know that my international career would have lasted 16 years but my passion and love for the sport fuelled me every day," Simmons wrote on Twitter.
"I'm closing this chapter of International cricket having played 144 matches and scoring 3763 runs from all formats. I want to thank the West Indies Cricket Team for the opportunities, and I wish the new crop of WI players all the best and to keep on believing in yourselves and your abilities.
My family and friends are my true motivators as they kept me inspired for so long. Now, have the time to be one cheering them on the sidelines. I really hope that represented them well because! did it for them. There were times when the odds were against me, but you stood tall alongside me."
— Lendl Simmons (@54simmo) July 18, 2022
The right-handed batter made his international debut for the West Indies in 2006 and went on to play 136 One-Day and Twenty20 matches while also appearing eight times for the West Indies test team. In total, the 37-year-old ran up 3763 runs throughout 144 international innings in various forms.
With the West Indies in 2012 and 2016, Simmons won two T20 World Cups. With the Mumbai Indians in 2015 and 2017, he also won two IPL championships.
The last time he played for West Indies was during the T20 World Cup in the UAE in October 2021.
Simmons averaged 31.58 in the 50-over format, and 26.78 in T20Is. His figure in Tests is an unimpressive 17.37.
4th Retirement News In Last 36 Hours
This is the second retirement news from the West Indies player in the past couple of hours. Notably, some hours ago, the test skipper of England also announced his retirement from ODI cricket which left everyone shocked.
While, the current ODI skipper of Bangladesh, Tamim Iqbal also announced his retirement from T20 Internationals on Sunday.