On social media, the popular TV show FRIENDS has put in the spotlight. The superhit American sitcom from the 90s has a large fan base among the younger generation. The primary cast of the renowned American television show reunited for one last time in FRIENDS: The Reunion, an unscripted special episode. Vinod Kambli Trolls On FRIENDS Reunion.
Kambli showed off his funny side by trolling on 'FRIENDS reunion'
On Thursday, May 27, the FRIENDS Reunion grabbed social media. Many current and past cricketers turned to their official accounts to share throwback photographs of their own 'reunions,' and the cricket community was also involved in the trend on social media.
Former Indian cricketer Vinod Kambli, on the other hand, had a different take on the highly-anticipated FRIENDS reunion. With a photograph of former Indian captain Sachin Tendulkar, the 49-year-old delightfully trolled the much-discussed episode. Kambli, who played 17 Tests and 104 One Day Internationals for India, shared two photos with the former Indian captain.
The first picture was taken during their playing days, while the second was a more recent selfie of the two former superstars. The caption, in which Vinod Kambli trolls showed off his funny side by trolling FRIENDS fans, stole the show.
"Kids have Reunion. Legends stay together forever!" the 49-year-old tweeted.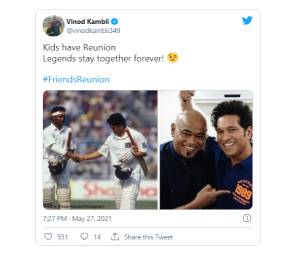 Sachin Tendulkar made headlines few days ago
Former Indian cricketer Sachin Tendulkar was in the headlines a few days ago as veteran Pakistani batsman Saeed Ajmal recalls an interaction with the batting legend during a charity match between the Rest of the World XI and the MCC XI at Lord's Cricket Ground in London.
As the cricketers celebrated the legendary ground's 200th anniversary, the match included many of the prominent stars. Because it was a charity match, it was expected to last longer so that more funds could be collected. Ajmal, on the other hand, arrived in a different mindset, taking four wickets in four overs.
Sachin approached Ajmal after seeing his assaults and advised him to treat this as a friendly match, "The match started, I picked up four wickets in four overs. So, Sachin Tendulkar came running to me and he said, 'Saeed Bhai, you are not supposed to play this match too seriously. This is a charity match. This is for the people who have come here to enjoy, they will have food, drinks. This match has to not get over before 6:30'," Ajmal revealed.