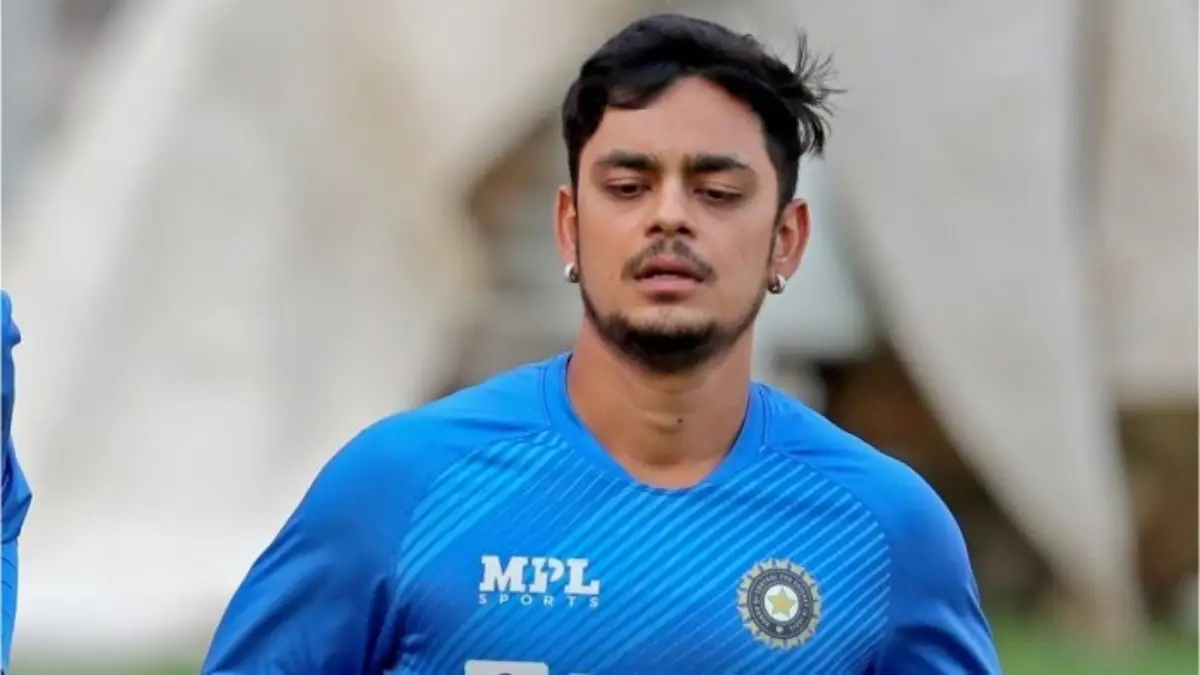 Ishan Pranav Kumar Pandey Kishan is an Indian cricketer who has played for the country across two formats (T20Is and ODIs). He first appeared on the scene when he led the country in the U-19 World Cup in 2016. He has represented two IPL teams so far. The now-defunct Gujarat Lions picked him in the 2016 auctions. Here you can know the detailed view of Ishan Kishan Biography.
He played for the Gujarat Lions in 2016 and 2017. Mumbai Indians bought him in 2018 and later bought him back in 2022 auctions too. Kishan went on to make his India debut in 2021. He is one of the most exciting young cricketers in the world.
Who supported Ishan Kishan in pursuing cricket as a career?
Ishan Kishan was born in Patna, the capital city of Bihar. He represents Jharkhand in the domestic tournaments. His father, Pranav Kumar Pandey was a builder by profession. Kishan started playing cricket at the age of 7.
The lad was talented but wasn't serious about the sport. His coach asked his father to encourage his son to take up the sport. Kishan's brother, Raj Kishan was a big support to young Kishan to pursue his dream of becoming a cricketer. His family was into the pharmaceutical business based out of Aurangabad (Bihar). But they later moved on to Patna and settled there. They are a family of four. His mother's name is Suchitra Singh.
Kishan idolized former India captain and wicketkeeper, Mahendra Singh Dhoni. He also looked up to former Australian wicketkeeper legend, Adam Gilchrist.
Ishan Kishan Domestic performance
Kishan's rise to the top was by no means meteoric. He had to climb the ladder of success step by step. Kishan first played for SAIL. He got picked for the U-16 team. Kishan soon made his way into the U-19 team. He later got picked for the Vijay Hazare Trophy. Kishan finally made his way into the Ranji Trophy side.
He smashed 273 against Saurashtra. It was the highest score by a Jharkhand player. The knock featured 14 sixes. Rahul Dravid, the then U-19 coach was watching the game live. He was stunned to see a young player playing such a blistering knock.
The U-19 Journey and Domestic Highlights:
Kishan was picked to lead the U-19 side in 2016. India finished as runners-up in that edition. He has had many exploits in domestic tournaments. Ishan Kishan has played in the Duleep Trophy, Deodhar Trophy, as well as the Syed Mushtaq Ali Trophy. He smashed 173 in the opening game of the Vijay Hazare Trophy helping his side score 422. It is the highest team total in the competition.
He has played 46 First-Class matches so far scoring 2,805 runs at an average of 38.42. Kishan has already scored 5 centuries and 16 half-centuries so far. Being a wicketkeeper he has affected 111 dismissals as well.
The Influence Of Rahul Dravid:
Kishan believes coach Dravid has played a huge role in his growth as a player. He was quoted saying, "He is a superb coach; he comes and talks to me and the thing about him is that his words change your mind. When you feel the pressure, you can always go and talk to him and right away you feel like you can just go out there and do your job, which is to win matches for India".
Ishan Kishan IPL Journey
Gujarat Lions picked young Kishan for INR 35 lacs in the 2016 auctions. He got to play in just 5 games that year. Kishan went on to play in 11 matches in 2017 scoring 277 runs at a strike rate of 134.46. Mumbai Indians saw the immense potential in him. They picked him for INR 6.4 crores in the 2018 mega auction. Kishan scored 275 runs in 14 games playing for MI that year. But what stood out was his strike rate (149.45). Kishan was offering MI something unique. He had a middling 2019 season playing 7 games and scoring just 101 runs.
The Breakthrough IPL year:
Kishan had a breakthrough IPL season in 2020. He smashed 516 runs at an average of 57.33 with a strike rate of 145.76. These numbers were very rare in the IPL. The world started taking notice of the young man. He smashed 30 sixes which was the highest in that edition. His ability to clear fields was startling. Everyone knew there is something special about him.
Kishan had a disappointing 2021 IPL. He walked into the IPL with huge expectations but he flattered to deceive. It was not until the last league game that the real Kishan arrived. He went on to smash the joint-fastest fifty ever scored by a Mumbai Indians player. It was widely expected that Mumbai Indians will retain Kishan. But it wasn't meant to be!
Ishan Kishan IPL 2022 Price
It was then speculated that Kishan might turn up for a team like Lucknow or Gujarat. But Kishan it seemed wanted to head into the auctions. Once his name appeared in the auction, teams went ballistic behind him. Mumbai Indians were completely bullish while bidding him for him. They did not drop the paddle even once during the auction.
Mumbai eventually bought him back for INR 15.25 crores. Kishan became the most expensive player of the 2022 mega auction. His this year's IPL salary is greater than that of legends like MS Dhoni and Virat Kohli.
Ishan Kishan Jersey Number
Kishan broke the selection door wide open with a blistering IPL 2020. He went on to make his India debut across formats (T20Is and ODIs) in 2021. Kishan smashed the fifties on both his debut matches. He was selected to play in the 2021 T20 World Cup. He is young and dynamic. Kishan is certainly the one for the future.
Ishan Kishan Cricketing profile
Batting: Left-handed
Role: Wicketkeeper Batter
Batting position: Opener/middle-order
Ishan Kishan Lifestyle and Net worth
Net worth: INR 45 crores
IPL salary: INR 15.25 crores
Monthly income: INR 1.2 crores+
House: Luxury designer house in Patna
Cars: Few luxury cars
Ishan Kishan Personal information 
First Name: Ishan
Second Name: Kishan
Real Name: Ishan Pranav Kumar Kishan Pandey
Profession: Cricketer
Birth Date: 18 July 1998
Ishan Kishan Age: 23 years
Ishan Kishan Height: 5' 8" [1.73m]
Ishan Kishan Birthplace: Patna
Ishan Kishan Marital Status: Unmarried
Ishan Kishan Girl Friend (GF): Aditi Hundia (Rumored Girlfriend)