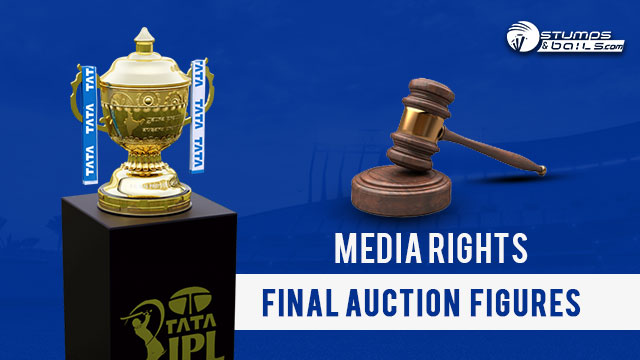 BCCI has fetched a total revenue of Rs.48,390 crore through the biggest cricket league in the world, IPL.
Viacom 18 grabbed the digital rights for a whopping Rs.23,758 crore, while Disney Star won the bid for TV at Rs. 23,575 crore. With this, IPL has now become the second most valued sporting league in terms of per match value.
The cash-rich league is just behind the National Football league (NFL) of the USA. While it edged past Major league, Major league baseball and the NBA in terms of per match value.
The bidding for the next 5 years of media rights of IPL was done on a per-game basis, which means the rights holders will collectively pay the Board of Cricket to control in India (BCCI) Rs 118.02 crore per match for the 2023-2027 cycle.
Amongst various big bidders it was Disney-Star who bagged Package A (TV rights) for the Indian subcontinent for Rs 23,575 crore. While Viacom seal the deal for Rs.23,758 crore for Packages B and C, they will cover digital rights for the Indian subcontinent as per the package B, and as per package C, they will cover a special pack of 18 games per season with non-exclusive digital rights for the same region.
Times and Viacom18 will share Package D, which is world rights for both TV and digital for a huge amount of Rs.1,057 crore.
Last time in 2017, Star India had left Sony Pictures behind to claim IPL's media rights for the 2017-2022 cycle with a bid of Rs 16,347.50 crore in September 2017. At inceptions' time, Sony Pictures Network grabbed the IPL media rights for a period of 10 years after winning a bid of Rs 8200 crore.
The recently completed IPL was once again turned to be the best cricket festival in terms of grabbing audience attention. In IPL 2022, 10 teams took part, with Gujarat Titans and Lucknow Super Giants, making a debut. Both teams had a good run in the most popular cricket league as Lucknow Super Giants reached eliminator stage, while Gujarat won the title.