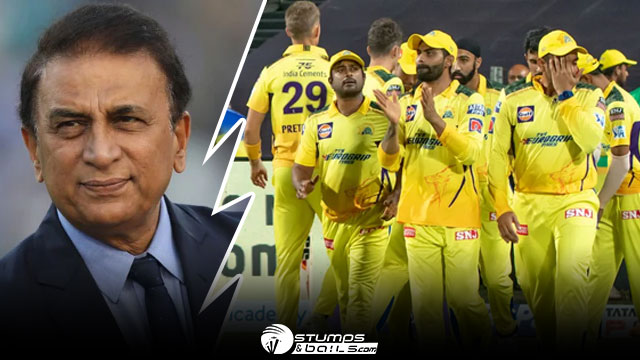 Chennai Super Kings (CSK) have a lot of catching up to do, according to Indian batting legend Sunil Gavaskar, but the reigning champions may yet make a comeback and qualify for the IPL 2022 playoffs. The four-time champions sit in ninth place in the IPL 2022 points standings, slightly above fellow strugglers Mumbai Indians, with three wins and six defeats from nine matches.

On Wednesday, May 4 night, the MS Dhoni-led Mumbai Indians take on the Royal Challengers Bangalore, captained by Faf du Plessis, at the Maharashtra Cricket Association Stadium in Pune in IPL 2022 Match 49.

"They have a lot of ground to make up, but they are a squad that understands how to rally. They must, however, soon turn things around" Gavaskar stated this on Star Sports' Cricket Live show, which is the official broadcaster of the IPL 2022. The tiny master drew comparisons with the success of the Kolkata Knight Riders (KKR) in the IPL 2021.

KKR struggled at first before reversing course and made it all the way to the final before losing to CSK. "Last year, we witnessed what happened with KKR. KKR was not in the picture when the event was conducted in India, but in the UAE, they won almost everything and advanced to the finals" Gavaskar said.

Despite the fact that CSK began the season with Ravindra Jadeja as captain, the Saurashtra all-rounder abandoned the position following a spate of dismal results and returned the command to Dhoni. The talismanic ex-Indian skipper got off to a winning start, restoring confidence in the CSK ranks.

"Things can turn around in a jiffy in this competition," Gavaskar remarked, adding that he remains optimistic about the Yellow Brigade's chances. In the meantime, former Indian cricketer Mohammad Kaif believes that this week will be exciting since no side wants to take chances. "No team can afford to take their opponents for granted. Any team may defeat any other team.

Each side will do everything possible to secure those two important points. It's time for the big names to step up and lead their teams ahead."

In the Jordar Week, CSK will play southern rivals RCB for the second time, and pundits predict a thrilling match. The two heavyweights meet on Wednesday at the run-filled MCA pitch, with Chennai's weak bowling and Bengaluru's faltering batting line-up putting the sides on an equal keel. The match takes on added excitement now that Virat Kohli has finally found some form, and Dhoni is back in the saddle and will do all in his power to bring India's finest batter down.

Whichever team wins on Wednesday will just contribute to the 'mid-table mess,' since most clubs with six to ten points have been grouped together, making the following four weeks very fascinating.