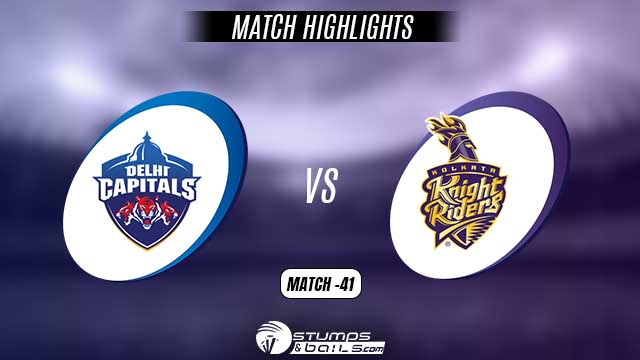 KKR 146/9 (20)
DC 150/6 (19)
Delhi Capitals won by 4 wkts
What we witnessed today between Kolkata Knight Riders and Delhi Capitals was nothing less than a roller coaster ride. All thanks to the Wankhede pitch that assisted bowlers and made batters struggle. A few effortless shots accompanied by mistimes and edges. We a journey of Delhi Capitals winnings the match by 4 wickets with just 6 balls remaining, even after restricting KKR for just 146 runs. Delhi in recent times has been heavily reliant on Powell to finish the game for them and it is their luck that he strikes hard and ensures he does the work for the team. Today too, even after losing wickets at regular intervals, it was Powell who pulled the team out of danger and won the match for DC scoring 33 off 16 balls. It wasn't the best day with the bat for both the teams but Delhi was a little lucky and made lesser mistakes in the middle. The credit must go to their bowlers and especially Kuldeep Yadav who bowled a brilliant spell of 4 for 14 in 3 overs.

Not just did we see a variety of bowlers, we also saw Shreyas Iyer himself trying his hand at bowling as he bowled an important 19th over. It could either show forward-thinking from the captain or a brain freeze that let him take certain decisions. We must talk about the late entry of Russell in the bowling or Venkatesh and himself throwing important overs. The bewildered captain did look a little out of touch and it will be crucial for him to make better bowling changes from now on and learn from the match. Kolkata has lost 5 consecutive matches now in IPL 2022.
The losing captain Shreyas Iyer looked a little frustrated as he said "We started off really slowly and lost a couple of early wickets. It was holding up a bit (the wicket), but we didn't get a good score on the board. No real excuses, we have to go back and assess where things are going wrong. A lot of chopping and changing is happening, it's been difficult to set up the right combination, with all injuries not helping as well. We need to stick together, play some fearless cricket, and not be conservative with the bat. Five more matches remaining, we need to play well, show belief and give something back to the team and the management, forget about the past, start fresh and back your instinct (on what KKR needs to do now). You need to sit back and think where it's going wrong, can't be overconfident, give your best, if we still lose, then it's fine. Umesh started with a wicket, but gave away 11 runs in the over, that's where I thought the momentum turned. But he has given us a lot of good moments this season and has been very very impressive as well.
The winning captain Rishabh Pant talked about his game plan, what his team looks like and what are they expecting of themselves in the tournament as he said, "We were thinking (of the wobble) because we lost too many wickets in the middle but at the same time we thought if we take the game deep, we can win it. It is good to have Marsh back. We haven't thought (about this as the best XI) as hundred percent. Khaleel got injured and that was a forced change, once he is back then we will have our best XI. I was just watching the ball till the end (referring to his low catch). I have been keeping a lot in the nets and that was my best catch throughout the season. We see him (Powell) as a finisher but like today when we lost too many wickets, he has to come up and do the job. We are not thinking about the points table and take one game at a time. We have to be more clear with our plans and that is something we can improve."
PLAYER OF THE MATCH- KULDEEP YADAV