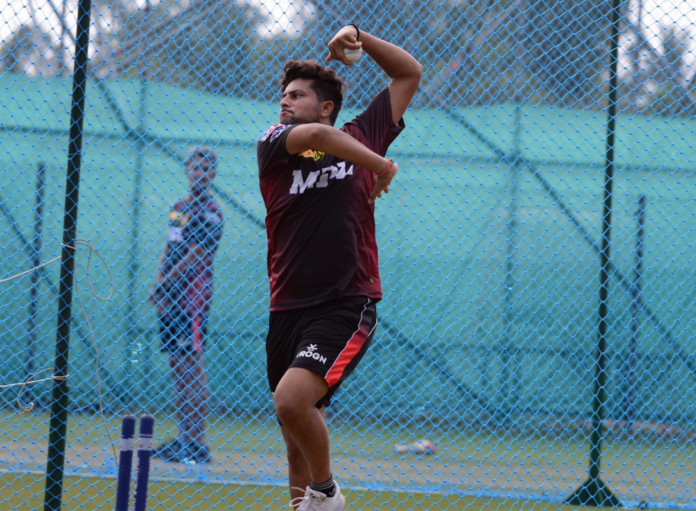 Kuldeep Yadav's consistency has been a big question over recent years. KKR Skipper prefers Harbhajan Singh over Kuldeep Yadav in the recent matches which speaks a lot about his downfall. Although he's very confident about taking part in his first recreation in the ongoing version. His breakthrough season was the following one in 2018 when he bagged 17 at 25.58 from 16 games. But a steep decline since then has lasted till now.
Kuldeep Yadav Reveals Two Batsmen Challenging To Bowl In His Career
Indian Spinner Kuldeep Yadav has recently revealed the two batsmen who he finds difficult to bowl in his career. Yadav, who has consistently been a part of the Indian side across formats has named Royal Challengers Bangalore (RCB) batsman AB de Villiers and the Mumbai Indians (MI) batsman Rohit Sharma.
Yadav said that while AB de Villiers can hit shots in any corner of the ground, Rohit Sharma takes his time to play, which makes them absolutely dangerous to bowl to. "I find it difficult to bowl against AB de Villiers and Rohit Sharma. De Villiers can smash the ball in any corner of the ground, while Rohit has plenty of time," added Kuldeep.
The 26-year-old further said that Mahendra Singh Dhoni and Chris Gayle are the two legendary cricketers to have ever played in this league. "If we look from the beginning, then MS Dhoni and Chris Gayle are truly the legends of IPL as they have been performing well since the first season," remarked Kuldeep.
Kuldeep Yadav is confident of playing matches for KKR in the coming weeks and is eager to take wickets for his team. Yadav said that he is hopeful of getting a place in the final XI very soon, adding "I will perform well" when that happens.
Kolkata Knight Riders (KKR) have played three games so far in the IPL 2021 edition, of which they have lost two. KKR lost their last game against Royal Challengers Bangalore (RCB) by a whopping 38 runs.
Kolkata Knight Riders face Chennai Super Kings tomorrow. CSK looks in good form recently and this will be a difficult match for KKR since the Dhoni-led side already played 3 games on the Mumbai pitch.