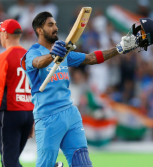 After defeating South Africa and Bangladesh at home, Team India is now going to play West Indies. After their series against Afghanistan in Lucknow, Caribbeans will battle with India.
The biggest talking point from Team India selection is Bhuvneshwar Kumar's comeback into Indians squad after his brief injury break
India has picked a full-strength team for the series, which is a surprise. Considering the T20 World Cup next year, the team is likely to focus on playing a settled lineup in whatever games are remaining before the tournament.
While a few players have marked their return to the squad, the selection committee has also taken a few surprising decisions which might seem curious.
1.KL Rahul:
The right-handed batsman from Mangaluru, Karnataka. He finds a place in both ODI and T20I squads. Indian cricket fans were seemingly disappointed and surprised at the same time after out-of-form KL Rahul found his way back into the ODI squad.
He had scored 704 runs in 22 innings with an average of 39.11 and a strike rate 79.1 in ODIs whereas, in T-20Is, he scored 974 runs in 28 innings with an average of 42.35 and a strike rate of 145.37.
2.Shivam Dube:
The all-rounder from Mumbai, who had made his debut match for Mumbai in the 2015-16 Syed Mushtaq Ali Trophy, earned a place in the Indian squad T20I call-up in the Indian side for the upcoming series.
He is going to replace the Indian team all-rounder Hardik Pandya who is taking a break due to an injury. Shivam Dube played 2 T20 innings with a strike rate of 83.33 and 4 IPL innings with a strike rate of 121.21.
3.Kedar Jadhav
Maharashtra all-rounder player Kedar Jadhav got a recall from the Indian selection committee into the squad for the ODIs against West Indies. He has played 47 innings in ODIs and scored 1289 runs with a strike rate of 101.5, and in his T20I career, he played 6 innings at a strike rate 123.23.