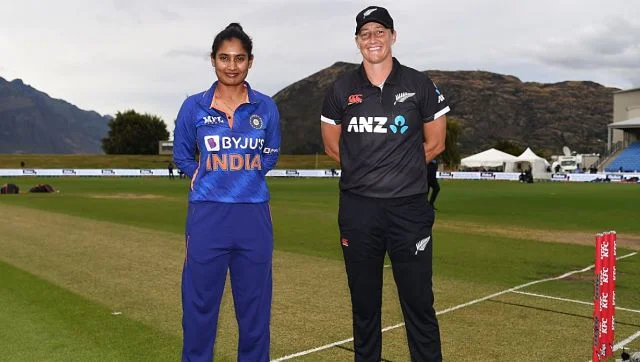 The Indian Women Cricket Team is currently participating in their 10th World Cup being hosted by Newzealand. After thrashing Pakistan by 107 runs in their opening game the women in blue would like to continue with their form and outplay the host country. Here is about India VS New Zealand Women ICC Women's World Cup 2022.
Let's take a look at what we can expect from the game.
In the past, India has played Newzealand on 12 different occasions in the ICC Women's World Cup 2022. Of 12, India has emerged winners in only 2 while losing to the Blackcaps 9 times with 1 match having no result. The record might seem discouraging but we can expect the team to do better given the boost the team must have gotten from their win against Pakistan.
Before the world cup, India played a 5 match ODI series against Newzealand in the Kiwi nation that resulted in them winning only 1 match and losing 4. The most concerning part of the series were the lack of form of the top-order and most experienced batters who failed to perform under the fast wicket conditions. Opener Harmanpreet Kaur and Shefali, Sneh Rana were amongst the senior players who couldn't perform according to their skills. Captain Mithali with Smrithi was the only top-order batters to score runs for the team but their efforts were not enough to make team win the games.
The series has passed and the players must have gotten acclimatized with the conditions of oceanic islands by now. The team has played a few warm-up games and the players who weren't able to perform earlier have shown their mettle by fighting for victory. In the opener game of their world cup journey, which garnered a lot of attention from the fans of cricket, the women in blue pulled off team performance. The middle-order seemed a little concerning but the later batters played with great maturity and hold on to their wicket. The bowling department shined like a silver star which is great news where none of the bowlers went wicketless with Rajeshwari and Jhulan picking 4 and 2 wickets. 
The Newzealand who lost to West Indies by 3 runs in their opener game, pulled themselves back by defeating Bangladesh by 9 wickets in their next game. The team would want to maintain dominance over the Indian contingent like in the earlier series. 1while the Indian team looks like they are getting hold of their performances and they should be able to fight back well. Both the teams have their best players representing them and it's just the matter of which set of 11 is able to perform better than the other in the game tomorrow.