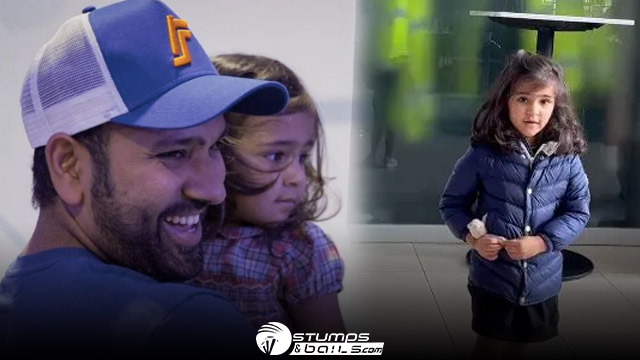 Rohit Sharma, the captain of Team India, is presently in quarantine after testing positive for COVID-19 in Leicester City during their four-day warm-up match against Leicestershire. It is yet unknown if Rohit Sharma will be well enough to captain the team for the fifth Test match, which has been rescheduled to take place at Edgbaston on Friday, July 1.

Rohit's daughter Samaira gave a health update in light of all the attention being paid to her father's condition prior to the Test. Reporters from the UK questioned her about what Rohit is up to.

Unguilty Samaira confessed that her father was sound asleep. Here is the video of Samaira updating the situation with Rohit. Fans adore the video, which is quickly becoming popular online.
#RohitSharma Daughter #samaira Today at #Leicester How cute she is 😍😍 MY FATHER IS TAKING REST IN THE ROOM GOT #covidpositive @ritssajdeh @ImRo45 #ENGvIND @ITGDsports pic.twitter.com/Tbpu0HSUIQ

— Krishna sai ✊🇮🇳 (@Krishna19348905) June 27, 2022

In the just-completed tour match against Leicestershire, Rohit was a member of the team. Due to his COVID-19 diagnosis and request to remain in isolation, he opted out of playing on the last day of the game. Considering that selector Chetan Sharma will be traveling to the UK today, it is likely that a decision about the India captain for the forthcoming Test will be made.

India's captaincy is in a bind going into the highly anticipated fifth Test match against England, which has been delayed and will begin at Edgbaston on July 1. Rohit Sharma's availability is in doubt.

India now leads the five-match Test series 2-1, and while a win or even a draw will help them seal the victory, a defeat would undoubtedly be bad for their morale considering the hectic schedule that lies ahead and the valuable World Test Championship (WTC) points that are on the line.

The Indian team management is optimistic that he will recover in time for the Test, but should he not, India would find itself in a precarious scenario since vice-captain KL Rahul has also been ruled out due to a groin injury.

In order to replace Sharma, India had to fly its starting quarterback Mayank Agarwal to Birmingham. Even while the India team still has a few players who can step up and fill the vacuum, it is still unclear how the next few days would turn out.

Jasprit Bumrah, a pace bowler, is one of the top candidates for captain should Sharma's recuperation process continue. According to the International Cricket Council (ICC), the great spinner will lead an Indian Test team for the first time in over three decades, making it a momentous milestone for Indian cricket.