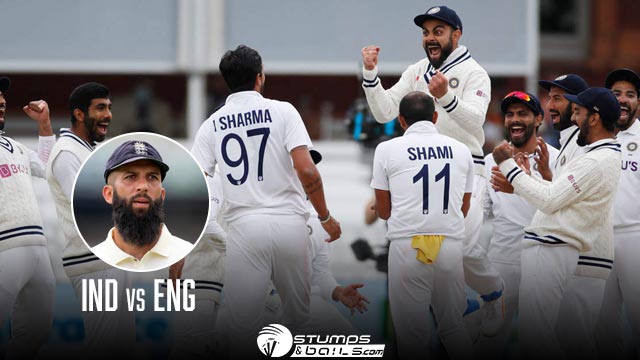 As a result of their outstanding performance, which includes a 3-0 shutout of New Zealand in the most recent Test series at home, England all-rounder Moeen Ali thinks that England is the favorite for the postponed fifth Test against India at Edgbaston.

Ali announced his retirement from Test cricket in September of last year, claiming a lack of enthusiasm while participating under the leadership of Joe Root (skipper) and Chris Silverwood, who was then in charge of the England side (coach).

India "could have won if this series had finished last year." I would have anticipated India's triumph if you had asked me 4-5 weeks ago. But as of right now, I think England will win. Observing from Birmingham on Tuesday, Moeen commented, "India seems a touch undercooked."

India played four games in the previous season. This time, they've had a practice game and some net training. In my opinion, England is the favorite right now since they have just begun three excellent Test matches and are playing with a lot more assurance than they did a year ago.

"Their mentality has changed, and their cricket is now upbeat. India will continue to be very challenging, said Moeen.

'India would miss out on skipper Rohit Sharma': Moeen Ali

India will be without their skipper Rohit Sharma as well as their great opening batsman KL Rahul, who is now sidelined with a groin ailment, according to Moeen Ali, who played his farewell Test at the Oval during the unfinished series last year. Both of the team's performances throughout the first games of that series, in which India now leads 2-1, were outstanding.

"I also believe that the KL Rahul and Rohit combination was the true challenge (for England) since they routinely gave India excellent starts and saw off the new ball, especially with the manner they batted last year. KL Rahul is a significant loss, and Rohit might not make it. Therefore, England is the favorite, in my opinion, stated Moeen Ali.

On July 1, in Edgbaston, there will be the fifth Test match between England and India. Because of their previous good play, England will start as the favorite despite Team India's Covid-19 hit.