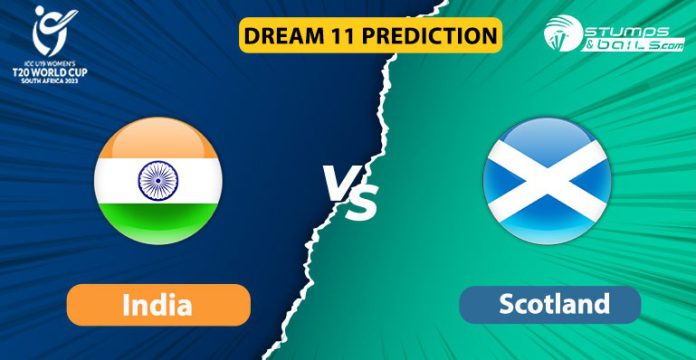 IN-WU19 vs SC-WU19 Match Preview
India women and Scotland are ready to square off in the 20th match of the ICC U-19 cricket world cup at the Willowmoore Park B Field in Benoni on Wednesday.
India, who won their first two matches with ease, is looking more balanced side on and off the paper and will most likely to maintain their winning momentum with a win over Scotland.
Scotland, on the other hand, lost 2 out of 2 while India is the biggest team in their group, against which they will play on Wednesday.
IN-WU19 vs SC-WU19 Match time and Venue
Match: 20th off 41, ICC U-19 women's cricket world cup 2023
Date & Time: 18-01-2023 (Wednesday) 12:45 PM GMT / 5:15 PM IST
Venue: Willowmoore Park B Field, Benoni
IN-WU19 vs SC-WU19 Live Telecast
The game between India women and Scotland women will not be telecasted on any channels in India. The live streaming of the IN-WU19 vs SC-WU19 will be available to watch FanCode app.
Where can I see IN-WU19 vs SC-WU19 Live Score?
IN-WU19 vs SC-WU19 Live Score
You can also track live scores and updates on the Stumps and bails website.
IN-WU19 vs SC-WU19 Possible Playing11
IN 11  
Shweta Sehrawat, Shafali Verma (c), Gongadi Trisha, Soumya Tiwari, Richa Ghosh (wk), Sonia Mendhiya, Hrishita Basu, Archana Devi, Parshavi Chopra, Shabnam MD, Sonam Yadav
SC 11
Darcey Carter, Ailsa Lister (wk), Emma Walsingham, Nayma Sheikh, Katherine Fraser (c), Olivia Bell, Maryam Faisal, Niamh Muir, Orla Montgomery, Niamh Robertson Jack, Maisie Maceira
IN-WU19 vs SC-WU19 Pitch Report
The first innings of the last two games played here have generated an average of 140 runs. Here, the Pacers have had a lot of success.
70% of the wickets in this game are allegedly theirs. You should choose as many pace bowlers as you can for your team. The playing field in Willowmoore Park in Benoni is level.
IN-WU19 vs SC-WU19 Weather Report
According to the forecast, overall there are no chances of rain, as the weather will remain clear and fans can witness an interruption free Big Bash game IN-WU19 vs SC-WU19 match.
IN-WU19 vs SC-WU19 Injury updates unavailability
IN-WU19 Team Updates
After defeating the strong UAE in the first match, team India is high on confidence and would like to stick with their tested team.
SC-WU19 Team Updates
There is no injury update as of now from team Scotland, and the team will play to their full potential.
IN-WU19 vs SC-WU19 Odds
IN: 1.18
SC: 6.01
IN-WU19 vs SC-WU19 Recent Forms
The Shafali Verma-led team will start this match as favourites due to more balanced side.
IN-WU19 vs SC-WU19 Fantasy Tips
Batters: Soumya Tiwari, Trisha Gongadi, Emma Walsingham, Shweta Sehrawat
Top Batter Pick: Shweta Sehrawat
The opening batter of team India, played a match winning spectacular 92 runs knock in just 57 deliveries in the first game to help her side claim the victory, while she scored another spectacular unbeaten 74 in the second game too.
Top Wicketkeeper: Richa Ghosh
All-rounders: Shafali Verma, Katherine Fraser, Niamh Robertson-Jack
Top All-rounder Pick: Shafali Verma
The star all-rounder Shafali Verma, who scored destructive 78 in just 34 balls would like to continue her good form in the competition.
Bowlers: Archana Devi, Maisie Maciera, Tithas Sadhu
Top Bowler Pick: Tithas Sadhu
The clever bowler bagged a wicket in the last game while giving just 14 runs in 4 overs.
IN-WU19 vs SC-WU19 Captain and Vice-Captain Choices
Captain: Shafali Verma
Shafali Verma, the in-form all-rounder, known for her exploits at the top of the order, which everyone already witnessed in the first two games, after playing a good 45-run knock in the first match, she struck a 78 in 34 balls, which makes her a perfect choice to pick as captain for your dream 11 team.
Vice-Captain: Shweta Sehrawat
The highest run-scorer in the competition, Shweta Sehrawat, who bagged scored a brilliant unbeaten 92 off 57, will be a perfect choice to pick as vice-captain for your dream 11 team.
IN-WU19 vs SC-WU19: 5 must picks
| | |
| --- | --- |
| Player | Role/Stats |
| Shweta Sehrawat | Scored unbeaten 74 off 49 in last match |
| Soumya Tiwari | Reliable batter |
| Shafali Verma | Played a knock of 78 off 34 |
| Katherine Fraser | Took 3 wickets in last game |
| Tithas Sadhu | Grabbed 1 wicket while giving just 14 in 4 overs |
IN Key Players
Shweta Shekawat
Shafali Verma
Richa Ghosh
Archana Devi
Sonam Yadav
SC Key Players
Emma Walsingham
Trisha Gongadi
Katherine Fraser
Niamh Robertson-Jack
Maisie Maciera
IN-WU19 vs SC-WU19 Dream11 Winning Predictions
IN: 74%
SC: 26%
Dream11 Teams for IN-WU19 vs SC-WU19 Match
Team 1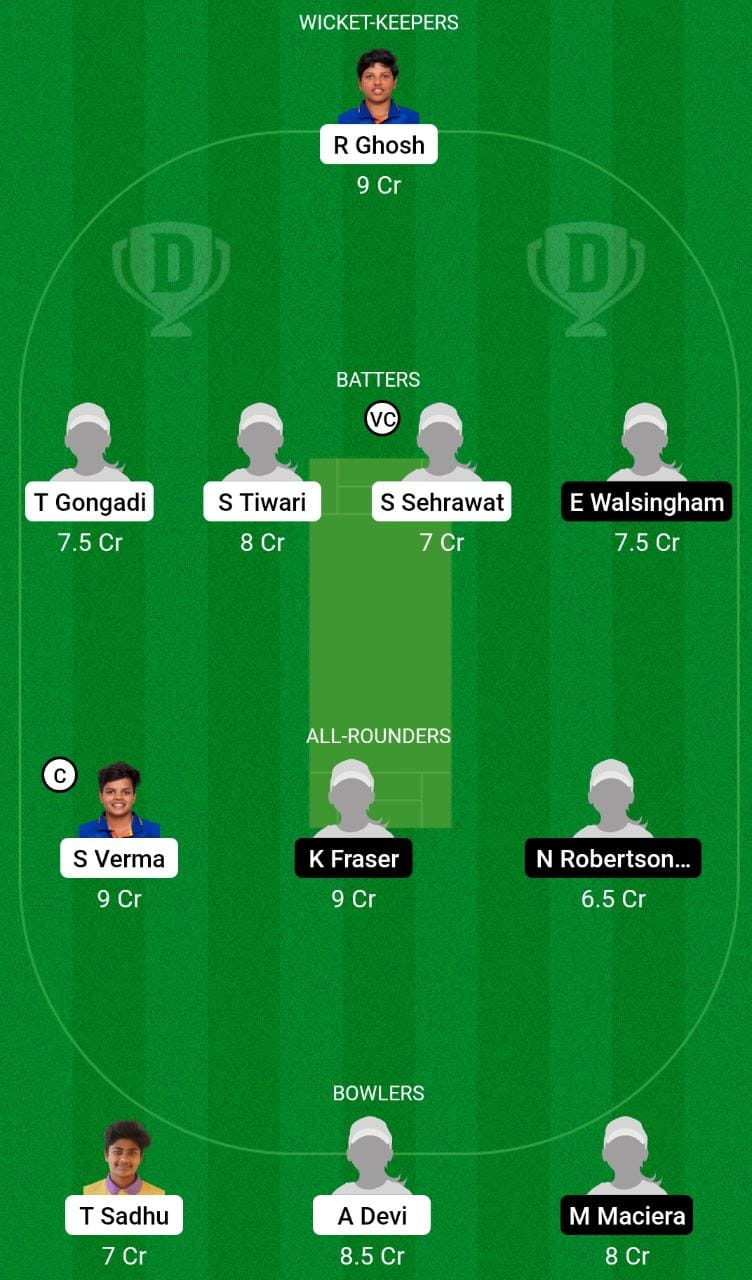 Team 2
| | | | |
| --- | --- | --- | --- |
| Player | Credits | Player | Credits |
| Shweta Sehrawat (vc) | 7 | Shafali Verma | 9 |
| Emma Walsingham | 7.5 | Shweta Sehrawat (vc) | 7 |
| Soumya Tiwari | 8 | Emma Walsingham | 7.5 |
| Trisha Gongadi | 7.5 | Milly Paton | 7.5 |
| Richa Ghosh | 9 | Trisha Gongadi | 7.5 |
| Shafali Verma © | 9 | Richa Ghosh | 9 |
| Katherine Fraser | 9 | Katherine Fraser © | 9 |
| Niamh Robertson-Jack | 6.5 | Niamh Robertson-Jack | 6.5 |
| Archana Devi | 8.5 | Sonam Yadav | 8.5 |
| Maisie Maciera | 8 | Maisie Maciera | 8 |
| Tithas Sadhu | 7 | Tithas Sadhu | 7 |
ICC Under 19 Women's T20 World Cup 2023 Points Table
ICC U-19 points table
| Group A | Mat | Won | Lost | Tied | NR | Pts | NRR |
| --- | --- | --- | --- | --- | --- | --- | --- |
| Bangladesh Women U19 | 2 | 2 | 0 | 0 | 0 | 4 | 0.691 |
| Australia Women U19 | 2 | 1 | 1 | 0 | 0 | 2 | 1.644 |
| Sri Lanka Women U19 | 2 | 1 | 1 | 0 | 0 | 2 | 0.013 |
| United States Women U19 | 2 | 0 | 2 | 0 | 0 | 0 | -1.964 |
| | | | | | | | |
| Group B | Mat | Won | Lost | Tied | NR | Pts | NRR |
| England Women U19 | 1 | 1 | 0 | 0 | 0 | 2 | 8.7 |
| Pakistan Women U19 | 1 | 1 | 0 | 0 | 0 | 2 | 0.756 |
| Rwanda Women U19 | 2 | 1 | 1 | 0 | 0 | 2 | 0.656 |
| Zimbabwe Women U19 | 2 | 0 | 2 | 0 | 0 | 0 | -5.325 |
| | | | | | | | |
| Group C | Mat | Won | Lost | Tied | NR | Pts | NRR |
| New Zealand Women U19 | 2 | 2 | 0 | 0 | 0 | 4 | 5.606 |
| West Indies Women U19 | 1 | 1 | 0 | 0 | 0 | 2 | 0.35 |
| Ireland Women U19 | 2 | 0 | 2 | 0 | 0 | 0 | -2.653 |
| Indonesia Women U19 | 1 | 0 | 1 | 0 | 0 | 0 | -4.405 |
| | | | | | | | |
| Group D | Mat | Won | Lost | Tied | NR | Pts | NRR |
| India Women U19 | 2 | 2 | 0 | 0 | 0 | 4 | 4.083 |
| South Africa Women U19 | 2 | 1 | 1 | 0 | 0 | 2 | 0.429 |
| United Arab Emirates Women U19 | 2 | 1 | 1 | 0 | 0 | 2 | -2.528 |
| Scotland Women U19 | 2 | 0 | 2 | 0 | 0 | 0 | -1.66 |
***Disclaimer: The cricket match predictions are based on our analysis and they do not promise fixed results. All the information is published in good faith and for general information purposes only***