The South African national cricket team, nicknamed the Proteas, South Africa entered first-class and international cricket at the same time when they hosted an England cricket team in the 1888–89 season. At first, the team was no match for Australia or England but, having gained in experience and expertise, they were able to field a competitive team in the first decade of the 20th century.
Let's have a look into performances of the SOUTH AFRICA Players stats!
Batting Performances Of Team South Africa
Balls Faced vs Runs Scored
The senior most player Hashim Amla has scored the most runs from SOUTH AFRICA team with 7910 runs in 8866 balls with a strike rate of 89.22 in his ODI career followed by Faf Du Plessis with 5120 runs in 5786 balls with a strike rate 88.49. Where Quinton de Kock, JP Duminy, and Rassie Van der Dussen maintained a good consistency with a strike rate of 95.82,84.43 and 75.59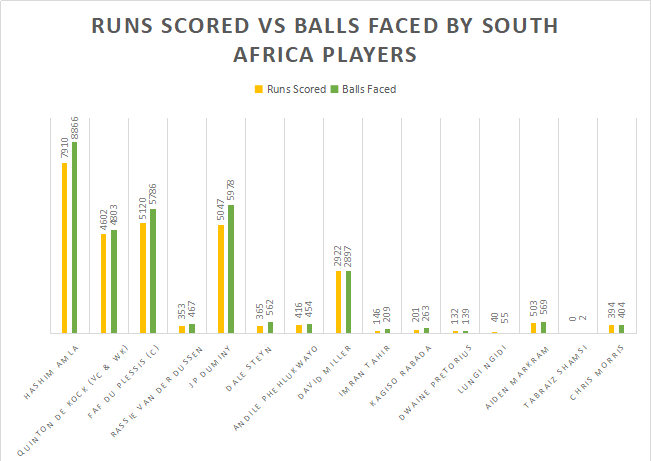 Average Runs by South Africa Players   
As we can see in the below plot that South Africa top order batsman maintained an average of 53.33 runs While the middle order maintained the average with 20.58 runs approx. The overall average of all the 15 players is considered then it is to be of 30.50 runs.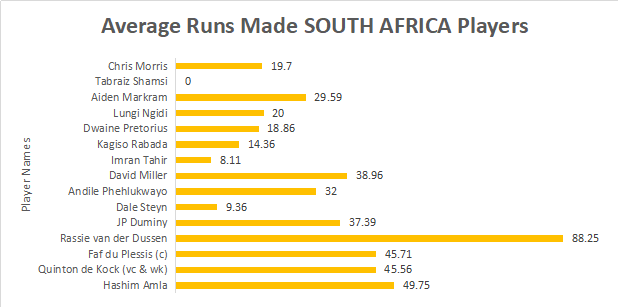 Count of Centuries Made by South Africa Players
Hashim Amla has the highest contribution of 27 centuries in ODI's followed by Quinton de Kock and Faf Du Plessis with 14 and 11.
Number of Half Centuries Made by South Africa Players
The number of Half Centuries were made by Hashim Amla with 37 followed by Faf du Plessis with 32. Else, Quinton de Kock, JP Duminy, and David Miller made it to 21,27,12
Boundaries (4's and 6's)
It's Hashim Amla with the highest count of four's (807) and 53 sixes. And, Quinton De Kock has the highest count of hitting 6's of 65 and Du Plessis with 62.
 Conclusion
The key Batsman from the South Africa Squad based on their performances is:
Faf Du Plessis
Q De Kock
Hasim Amla
Rassie Van der Dussen
Take a look at South Africa Team bowling performance Click Here.