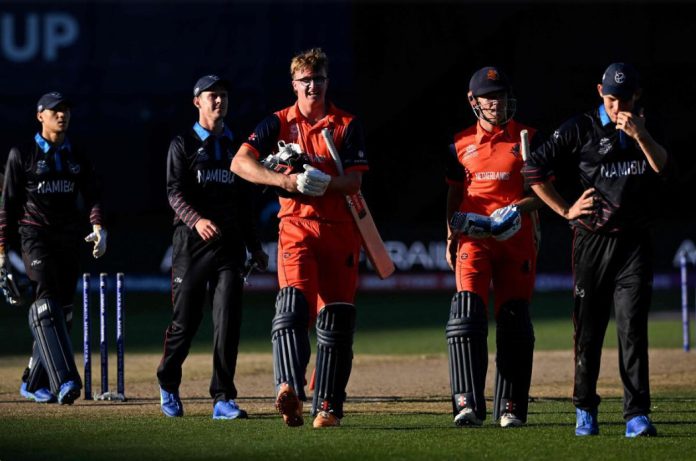 In a very important match between Namibia and Netherlands of ICC T20 World Cup 2022
Qualifiers, Netherlands emerged winners by 5 wickets. Namibia was restricted to 121 in the first innings. After a struggle chase, the Dutch reached the target with just 3 balls remaining.
Netherlands' Chase
Considering the type of head start Vikramjit had given them in the powerplay, the Netherlands had no business dragging this out as long as they had. In an effort to raise their net run rate, they continued to chip away at the wickets until, at the finish, Netherlands started to self-destruct a little bit. 
Their hero once more was De Leede, who pulled through under pressure and with Tim Pringle's strong backing. It almost proved deadly. Namibia would regret bowling to Vikramjit in the powerplay and, of course, their previous batting strategies, as they should have scored another 15-20 runs.
Namibia's First Innings 
The immediate impression was that Namibia posted below average total. Maybe by at least 15-20 runs. To their credit, the Dutch bowlers were excellent right away, kept it simple, and took advantage of the two-paced surface. Wickets on the powerplay are usually beneficial, and they received three before Baard successfully reviewed. Frylinck, who was elevated to position five as a result of his exploits in the previous game, struggled to maintain the same pace, though his partnerships with Baard and Erasmus did help to make the total respectable.
What Captains Said:
Edwards the captain of the winning side Netherlands said, "We're known as a side that plays hard till the last few balls. We did well in terms of front-loading the runs. We knew that Namibia has some good death bowlers in these conditions. It got a bit closer than we'd have liked, but it's still good. It's about now winning that third game of cricket."
Erasmus the losinf captain said, "Never nice to be on the losing side when it's so close. We put a good show in the field. With the bat, it seemed difficult for both sides but they ran better than us. There were enough stages in the game where we didn't put enough contact on the bat and didn't move things better."
Analysis
One shouldn't be bringing a 120-ish chase down to the last over when your side scores more than 50 runs in the first six overs. But Namibia deserves praise for regaining their calm throughout the middle overs when the softer ball wasn't as simple to avoid with the field setup.
With two victories, the Netherlands is enjoying themselves, but Sri Lanka is up next. Speaking of the Asia Cup champions, both of their remaining games are must-wins, whereas Namibia's last matchup with UAE is pretty straightforward. Despite the fact that this format is completely random. 
Currently, a three-way tie is likely to occur, and Namibia is currently well-positioned thanks to their net run rate. All of that may change, though, if Sri Lanka defeats UAE handily in the close-by second game of the day. But will UAE alter the narrative? We'll see. Open a new tab to view the activity.