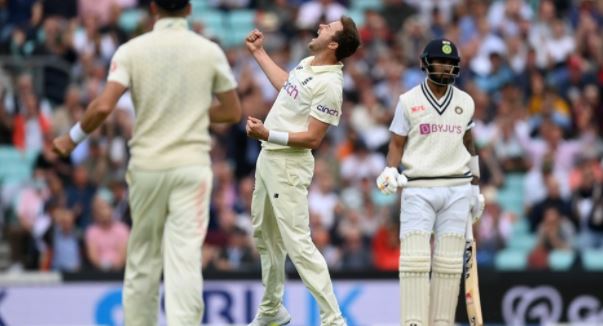 In IND vs ENG Test-4, India faced the same problem. Virat Kohli lost the toss, the new ball flew in overcast circumstances, India's top 6 batsmen fought versus the swinging and had been bowled out for a pitiful score of 191.
That, too, was thanks to Shardul Thakur's blast, who defend when his squad was down and out in order to bring his team back to some sort of regularity. Furthermore, the Indian bowlers composed for the batsmen's disappointing performance by grabbing 3 England wickets to keep the game going.
In the first 7 overs, Indian openers KL Rahul and Rohit Sharma put up a good show, hitting 28 runs. The inclusion of Chris Woakes into the assault was the key for things to shift. The comeback began when he got an edge off Rohit's bat in his opening over. Ollie Robinson quickly removed Rahul's resistance to the incoming ball.
Cheteshwar Pujara felt for the ball outside the off-stump yet again, only to miss it. What appeared to be a promising start turned into a nightmare morning for India, who were shortly gasping at 39/3. Ravindra Jadeja was then elevated to number 5, and much to the amazement, but he was controlled by Chris Woakes.
From the other side, Virat Kohli looked decent as he fired cover drives after cover drives to hammer up boundaries for excitement. On the other extreme, he was fortunate to be missed by his rival Joe Root while on 23. The Indian captain appeared to be on his way to achieving the ultimate century, but Robinson bowled a beauty to pull him back on 50.
Shardul Thakur produced stunning staff by hitting 57 runs off with just 36 balls:IND vs ENG Test-4 
Ajinkya Rahane's struggles resumed, when Rishabh Pant bowled a weak shot, leaving India 127/7 behind and out. Shardul Thakur chose to try his hand at each ball at this point, and he produced some stunning shots. The hosts were upset by his attack, but India's dignity was preserved by a 63-run 8th-wicket combination. Thakur finished as India's highest scorer, hitting 57 runs off with just 36 balls.
India, on the other hand, didn't contribute much when his wicket dropped and were eventually bowled out after just 191 total. England's top bowler, Chris Woakes, took 4 wickets, whereas Robinson remained to have a great day, taking 3 wickets.
Quick wickets were required by the visitors to ensure that England did not pull away with the game on Day 1. Jasprit Bumrah accomplished the same thing, dismissing both Haseeb Hameed as well as Rory Burns in the same over. Joe Root, the man of the moment, then came out and scored two fast fours, sending out ominous signals once more. Due to India's poor bowling, Dawid Malan also received many chances.
Root was shocked and could only observe the bails fly when Umesh nicked one back to him
The greatest wicket for India came through Virat Kohli's masterclass of bringing Umesh Yadav out into the action for a one-over outburst in the last over of the day. Root was shocked and could only observe the bails fly when Umesh nicked one back to him. The wicket of England captain Joe Root later in the day gifted India the last session, and the Test match is now in the swing.
Following 17 overs, the home team finished the day at 53/3, and the first session of Day 2 will be vital for both sides. The pitch has begun to level out, but there is still plenty to keep the bowlers engaged.