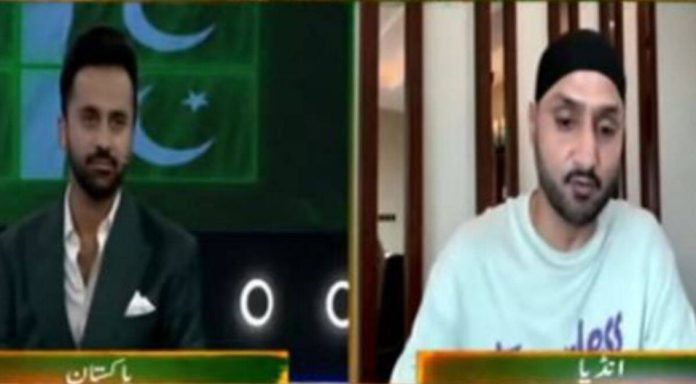 The BCCI's decision to not send the Indian cricket team to Pakistan for the 2023 Asia Cup has angered several former Pakistani cricket players and saddened the Pakistani cricket community.
India veteran Harbhajan Singh stated it plainly on live television that India won't travel to Pakistan for future ICC events amid the controversy over India's rejection to travel Pakistan.
In a recent debate between Pakistan's ARY News and India's Aaj Tak, Harbhajan Singh and former spinner Tanveer Ahmed got into a contentious exchange. The debate started when the anchor brought up India's hesitation to visit Pakistan for the Asia Cup and said that, considering the significance of the event, Team India would visit even if the World Cup were to be held here.
"Ramiz Raza had given a statement last year that Pakistan Cricket does not have the kind of money and that they need to look towards the BCCI. Either that or if the BCCI offers PCB money, Pakistan cricket is surviving. If you feel, you don't want to come to India, please don't. Who is asking you? If you don't want to play the ICC event, it's your call. If our players are not safe there, we won't send. Don't play if that's what you want," Harbhajan said on Aaj Tak's special show with Pakistan's ARY News.
"Of course, we have (security concerns). You tell me that you'll take the guarantee? Indian cricket can still survive without Pakistan, and if you guys can survive without Indian cricket, do it."
India vs Pakistan bilateral series
Since 2012–2013, there hasn't been a bilateral series between the two teams. Since then, Pakistan has only made one trip to India (during the 2016 T20 WC).
The situation worsened when the reporter gave Harbhajan the following "challenge" on live television: "Harbhajan sahab abhi keh rahe hain, 'Hum nahi aayenge'. Mera inko challenge hai… agar ICC ka tournament, woh bhi World Cup Pakistan mein hua, ye na aayein toh mujhe batayein (Harbhajan sir is very confidently saying right now that India won't come to Pakistan. I challenge him… that if a World Cup is held in Pakistan, and the Indian team doesn't come, we shall see).
Clearly offended by the statement, Harbhajan slammed and took the challenge.. "Toh le liya bhai tera challenge (I accept your challenge, buddy). Indian cricket knows how to run their cricket. We don't need PCB. We have an issue and we have said it. If the government gives the approval, sure," the former India spinner said.
The anchor then made the point that unlike India, Pakistan do not have security concerns.  However, since 2012–2013, no bilateral series has been discussed by the cricket bodies of the two nations.
"See, that is not in my hands, right? It is not my decision. If everyone feels the situation is fine, and that the two countries should play cricket, the authorities will take that call, and there will be cricket. And it has never happened previously that a team has come to India to play a series and had any issues," the former spinner concluded.