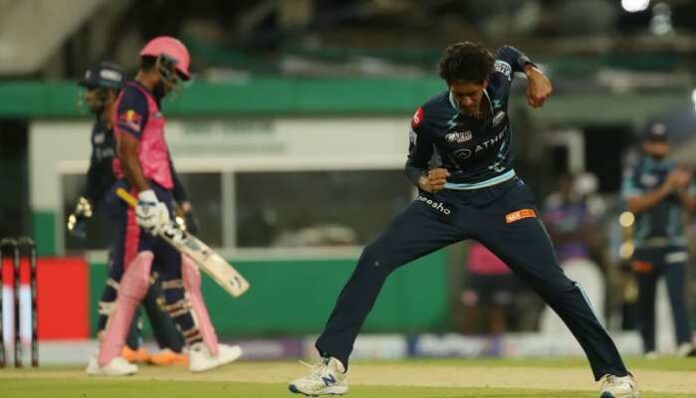 We are in the end week of IPL and today's match has kept us hooked. The contest between the best two teams of the tournament, Rajasthan Royals and Gujarat Titans, is on as they compete to take their place in the finals. Playoff 1 is being played at Kolkata where GT has won the toss and decided to bowl first.
GT vs RR Live Match Updates – 1st Innings 20 Overs Update
Rajasthan batting first has performed at par with their potential scoring a whopping 188 runs and losing 6 wickets. Gujarat has to chase 189 runs for the win. 
The innings that looked like losing its charm as Sanju Samson got out just before the 10 overs saw picking pace at it came to the end. A typical Jos Buttler innings that took a little more time than ever to get to big hitting came towards the end and changed Rajasthan innings' shape for good. In the last five overs, the team scored 64 runs losing 3 batters but only towards the end of the innings when the damage was already done by RR. 
The highest partnership of the innings was between Jos Buttler and Sanju Samson who contributed 68 runs to the innings.
The 17th over of the innings was a game-changer that helped Rajasthan pick pace. The over was bowled by young Yash Dayal who got hit for 18 runs. No wickets came in this over.  A total of 14 runs came off the 18th over of the innings bowled by Alzarri Joseph.  
The 19th over of the innings was bowled by Shami who couldn't keep things tight and got hit for 13 runs. It was a bad day for Shami but a wicket of Hetmeyer may have changed the mood a little bit.  The 20th over of the innings was bowled by Yash Dayal and was a dramatic one that saw a lot of things happening. We saw run-outs, no balls, wide balls, wickets, and sixes being hit in the over. RR batters scored 16 runs off the over.
Gujarat has a huge total in front of them against a team that knows equally well as them how to defend. What holds in the second half of the match is going to be very exciting. It will be a test of Sanju Samson to lead the team and ensure they restrict Hardik and David Miller on time. We will see power-packed performances from each team amidst the great audience of Kolkata. 
The run rate at the end of the 20th over is 9.40. Jos Buttler scored the highest number of 89 runs by hitting 2 sixes and 12 fours at a strike rate of 158.92.