15th Anniversary Of MS Dhoni's First International Century:
5th April is the 15th anniversary of Mahendra Singh Dhoni's first international century, which is a tremendous knock that marked the arrival of " next great thing in the world of Indian cricket". In This Post You Will See Greatest Strokes Of MS Dhoni in ODIs That Made History.
Moreover, Dhoni has played 350 ODIs, scored 10,733 runs and 10 centuries. He scored the highest unbeaten 183 runs with an average rate of 50.57 to his credit.
Since India's semi-final loss to New Zealand in the 2019 World Cup, Dhoni has not played any single match.
Greatest Strokes Of MS Dhoni in ODIs That Made History:
Here are the former Indian skipper's greatest Knocks in ODIs that have created history:
1. India Vs Pakistan | Date: 5th April 2005 | Venue: Visakhapatnam Score: 148 (123 balls; 15×4, 4×6; strike rate: 120.32)
Although Dhoni failed in his first four matches, he proved himself on the international stage with a heroic inning against Pakistan in Visakhapatnam. After this innings, former captain Sourav Ganguly promoted him to the NO.3 batting slot.
2. India Vs Sri Lanka | Date: 31st October 2005 | Venue: Jaipur Score: 183* (145 balls; 15×4; 10×6; SR: 126.20)
In that match, India was chasing 299 runs to beat Sri Lanka team. But Dhoni smashed the bowling attack of Chaminda Vaas and Muttiah Muralitharan and help the Indian team to win with 23 balls to spare.
3. India Vs Sri Lanka | Date: 2nd April 2011 | Venue: Mumbai Score: 91 (79b; 8×4, 2×6; SR: 115.18)
The most popular innings of Dhoni is the performance in the 2011 World Cup final match against Sri Lanka. Till the final match, Dhoni wasn't in his best form but he promoted himself in the batting order to bat against off-spinners of Sri-Lanka. He made India won the World Cup after 23 long years with an outstanding six on the last delivery.
4. India Vs Australia | Date: 19th October 2013 |Venue: Mohali Score: 139 (121b; 12×4, 5×6; SR: 114.87)
In this match against Australia, India was struggling at 154/6 but Dhoni scored 139 runs and crossed the 300 run mark with another fantastic inning infused with his marquee "helicopter shot".
5. India Vs Sri Lanka | Date: 11th July 2013 | Venue: Port-of-Spain Score: 45* (52b; 5×4, 2×6; SR: 86.53)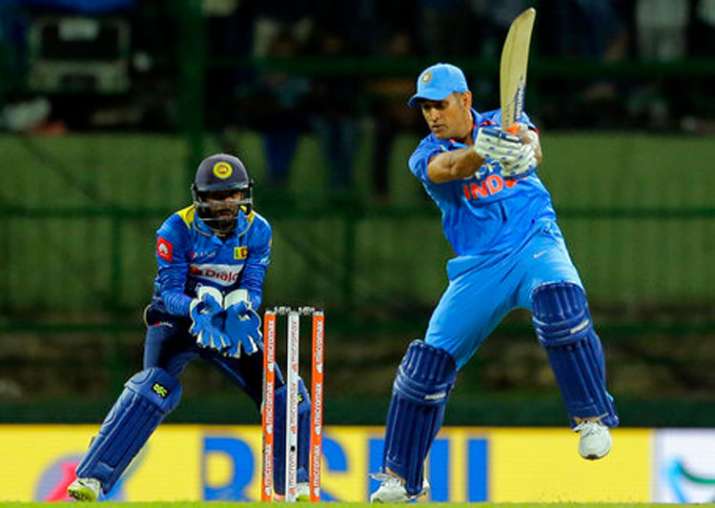 In the final match of tri-series involving Sri Lanka and West Indies, Dhoni came up with another interesting and entertaining knock. India wanted 202 runs to win the title but scored 167-8. Dhoni framed the match so brilliantly that he took the game into the last over with only 15 runs to win.
Shaminda Eranga had taken the responsibility to bowl the last over but Dhoni crushed him with continuous shots of 6,4,6 in the second, third and fourth deliveries and India won the match by 1 wicket.
6. India Vs. Australia | Date: 12th February, 2012 | Venue: Adelaide Score: 44* (58b; 1×6; SR: 75.86)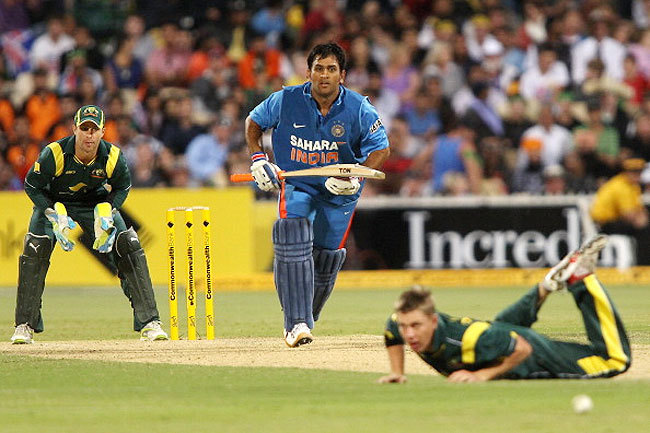 Another last-over champion performance of Dhoni is against Australia. This time, at the bowling department, Australian medium-pacer Clint Mckay was there. India needed 13 runs to win in the last over and Dhoni hit a 112 meter, breathtaking maximum to win the match.