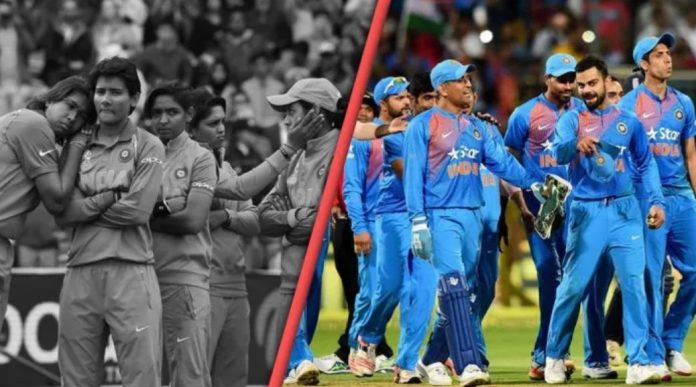 We are all aware of the might that cricket is becoming with each passing day. It is reaching a place beyond religion. Much like religion, it has gods, but unlike that, it seems there is no place for goddesses.
If we tune into a sports channel, it is likely that we will see out of 10 of them, 5 will be broadcasting live cricket matches or highlights, all of the men's cricket. We understand how the revenue system works. The ones who generate revenue are given the perks for generating it. But what if there is one half of the world being ignored because the other part has taken place all over it?
When we look at the reports by different Cricket Boards and the salary that is paid to male and female cricketers, there comes a shocking revelation. The highest salaried male cricketers feature the likes of Virat Kohli, Joe Root, Rohit Sharma, Steve Smith, the big shots, who range in between 2-3 crore per month (including salaries from Boards and Franchisees). And if we look at the list of highest salaried female cricketers we have Sarah Taylor, Harmanpreet Kaur, Meg Lanning, Ellyse Perry, who earn less than a crore in a year. (The women mentioned are superstars in their field, you just don't know about them)
If we just take India's reference who has the world's most powerful and affluent cricket board, the BCCI, they released the women's cricket players' yearly playing contracts. The wage ranges were as follows: Category A ($50 lakh), Category B ($30 lakh), and Category C ($20 lakh) (Rs 10 lakh). The Board had previously announced the contracts for male cricketers a month prior. Instead of three categories, there are four in their case, with participants in the top category, "A+," earning Rs 7 crore (excluding the match fees). The remaining categories were "A" (worth Rs. 5 crore), "B" (Rs. 3 crore), and "C." (Rs 1 crore). Even the lowest-paid male cricket players received a salary that was Rs 50 lakh higher than the highest-paid female players. Such is the condition of how we are approaching the game for women.
In other boards, we see a similar scenario where the male counterparts are being paid exceptionally high. Be it the biggest boards across the world, none of them have worked significantly in other to cover this gap.
It is the England Cricket Board that has worked towards getting equal pay for the women's league of 'The Hundred' after being bashed for keeping a huge difference between the prize money for men and women's games. Cricket Australia has also tried to cover up the pay gap but it still has a long road to cover to reach anywhere near equal.
It is only the Newzealand Cricket Board that has taken the historic decision to cover the gap and give equal salaries to both males and females participating in the game. This has come after efforts from the male team too who agreed and spoke in favor of women being paid equally. Even though men will continue to earn higher due to the more number of matches scheduled for them, it is still a great victory in a long war of discrimination.
It is not just the cricketers on the field, the women working in cricketing jobs, which is mostly anchoring, reporting, presenting, and writing about it (as if they are not good enough to analyze it or be the coach or therapist) there is still a struggle to find workplaces that are paying equally to women. The jobs with higher pay are mostly taken by men because of the idea of them being more 'sporty' and 'not emotionally attached to sports to analyze it well'.
The inclusion of women's cricket in Common Wealth Games 2022, IPL, and The Hundred is a great first step. A lot of work is being done but there is still a VERY long way to go. There must be more investment in female cricket to increase its quality. They can definitely use more marketing and commercialization on both international and domestic levels. More number of games for them would also help. But what will help the most is the approach of fans towards the way they watch women's games. It is the need of the hour, we really change our mindset and understand it is cricket. It is everyone's game.