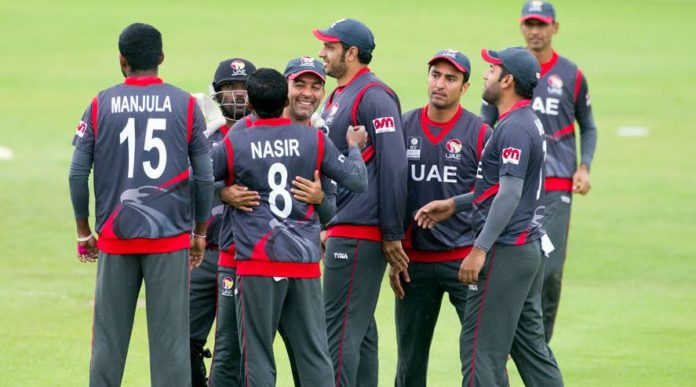 PITCH AND CONDITIONS
While there will be a little cloud about, the chance of rain is forecast as minimal with temperatures in the 30s, there is likely to be little to worry about weather-wise.
The high scores in the warm-up matches at the Sheikh Zayed stadium were a reminder of how good it can be for batting on particularly batting first.
United Arab Emirates
Mohammad Naveed, Qadeer Ahmed and Shaiman Anwar were all dropped on the eve of the tournament and it has now emerged the three of them have been suspended by the ICC on anti-corruption charges – concerningly related to this qualifier.
Naveed has been replaced as captain by Ahmed Raza, while Waheed Ahmed, Darius D'Silva and Junaid Siddique have all been called up.
To their credit, the UAE have reacted well to their off-field chaos.
They won both official warm-up matches, beating Scotland and Papua New Guinea after some good batting performances to prove they can cope without their suspended trio.
They previously won all four matches of their tour of the Netherlands, against an inexperienced home line-up.
PROBABLE PLAYING XI OF United Arab Emirates
Chirag Suri, Darius D'Silva, Muhammad Usman, Mohammad Boota, Waheed Ahmed, Rohan Mustafa, Ghulam Shabber (wk), Ahmed Raza (c), Zahoor Khan, Junaid Siddique, Imran Haider
Oman
Oman's bowling line-up was settled throughout the pentangular series, so their selection questions revolve around the batting order.
Jatinder Singh's half-century in the last warm-up match re-confirms his place, leaving two spaces for Mehran Khan, Khurran Nawaz and Sandeep Goud to fight over.
Oman won all four matches in the pentangular series they hosted ahead of this tournament and also won both of their official warm-up matches too.
In Muscat, their bowlers were particularly impressive as they ended the series by bowling the Netherlands out for 94 and Nepal for 64 on their way to dominant wins.
PROBABLE PLAYING XI OF Oman
Khawar Ali, Jatinder Singh, Aqib Ilyas, Zeeshan Maqsood (c), Aamir Kaleem, Khurram Nawaz, Sandeep Goud, Suraj Kumar (wk), Mohammad Nadeem, Fayyaz Butt, Bilal Khan
OUR FANTASY LEAGUE PICKS FOR United Arab Emirates vs Oman 4th Match-Group B

IN ICC Men's T20 World Cup Qualifier 2019 ARE MENTIONED BELOW:
Aqib Ilyas
Zeeshan Maqsood (C)
Ghulam Shabber
Zahoor Khan
Jatinder Singh
Khawar Ali
Bilal Khan
Muhammad Usman
Aamir Khaleem (VC)
Imran Haider
Rohan Mustafa
Click Here for Match Prediction.
*Disclaimer: A team here is picked based on the perception, analysis, and gut feeling of the author. When you select your team, analyze the points mentioned to arrive at your own decision.*