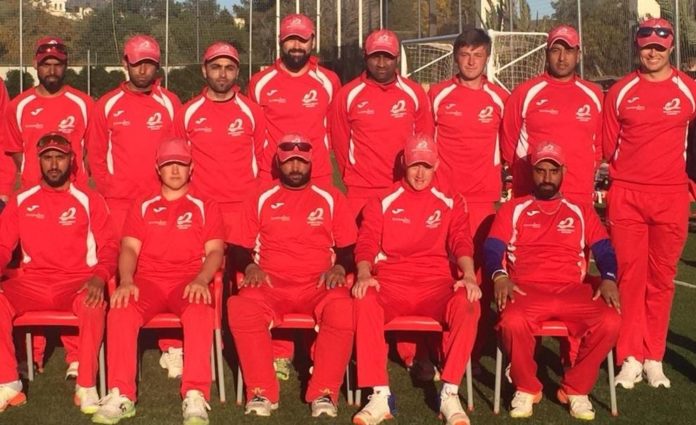 PITCH AND CONDITIONS
La Manga will be sunny and dry on Friday for the start of the Iberia Cup. Temperatures are forecast to be around 21 degrees Celsius, with zero chance of rain.
While the form book at La Manga is hard to judge, given the very different levels of players to have used it in recent months, the general feeling is that good batsman can score big runs.
Spain
One-time UAE paceman Raja Adeel, who played one first-class match for the United Arab Emirates, has been named in the Spain squad for the first time.
Faisalabad veteran Tauqeer Hussain has been recalled, meanwhile, after missing the tour of Finland. Christian Munoz Mills again captains the team.
Spain won the T20i Triangular Series they hosted at La Manga against Malta and an Estonian XI, which included Awais Ahmed's century against the former, before coming from behind to beat Finland 2-1 in their first bilateral series.
Ravi Panchal's unbeaten 71 from 36 balls helped them chase 159 to win the decider by four wickets, with two balls to spare.
PROBABLE PLAYING XI OF Spain
Awais Ahmed (wk), Faran Afzal, Yasir Ali, Ravi Panchal, Kuldeep Lal, Christian Munoz-Mills (c), Paul Hennessy, Tauqeer Hussain, Raja Adeel, Atif Mehmood, Tom Vine
Portugal
Portugal's 15-man squad only features five of the players who played in the win against Cyprus in the final game of the European Region group stage of the T20 World Cup qualifier in 2018.
Paulo Buccimazza remains as captain, but new additions include wicket-keeper Francoise Stoman.
Portugal's entire XI, of course, will be making their T20i debuts.
Portugal has not yet played a T20 international since it was announced all Associate Nations had been granted the status by the ICC.
They last played in the group stage of the ICC T20 World Cup Europe Qualifier, losing to Austria, Denmark, France and Germany but then beating Cyprus in their final game to finish fifth out of six teams.
Against Cypurs, Arslan Ahmed fell just short of a half-century as hit a match-winning 49 from 34 balls
PROBABLE PLAYING XI OF Portugal
Tariq Aziz, Zohaib Sarwar, Arslan Ahmed, Imran Khan, Md Fakhrul Hussain, Paulo Buccimazza (c), Francoise Stoman (wk), Sukhwinder Singh, Assad Mehmood, Mian Mehmood, Najjam Shahzad
OUR FANTASY LEAGUE PICKS FOR Spain vs Portugal 1st T20  IN Iberia Cup 2019 QUALIFIER

ARE MENTIONED BELOW:
Arslan Ahmed
Tariq Aziz
Awais Ahmed
Mian Mehmood
Kuldeep Lal
Paulo Buccimazza
Atif Mehmood
Yasir Ali (VC)
Ravi Panchal (C)
Tom Vine
Fawad Afzal
Click Here for Match Prediction.
*Disclaimer: A team here is picked based on the perception, analysis, and gut feeling of the author. When you select your team, analyze the points mentioned to arrive at your own decision.*