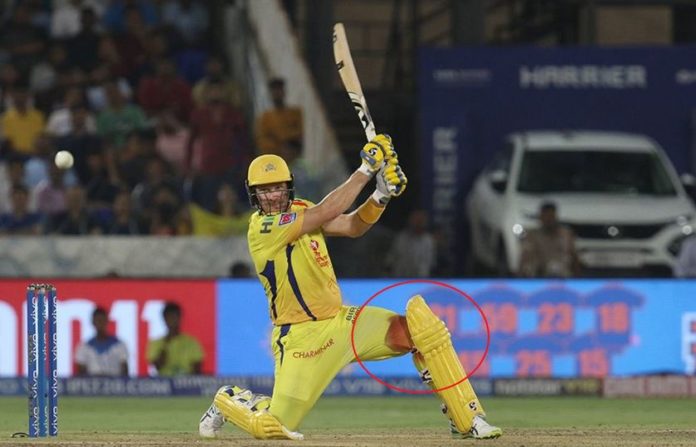 During the final match of VIVO Ipl 2019 between MI and CSK, MI has set a target of 150 for CSK. Which is below the par score at Hyderabad.
CSK batting openers Shane Watson and Faf Du Plessis started innings with a decent run rate. Shane Watson is the only player who was on the crease from the start of the innings and was in good touch with the bat. And got run out in the last over where CSK just needed 5 runs in 3 balls. Unfortunately, CSK lost the match by just one run despite his efforts.
He had an excellent knock of 80 runs in 59 balls with eight 4's and four 6's with a strike rate of 135.
People never knew until Harbhajan Singh posted a story on Shane Watson in Instagram stating.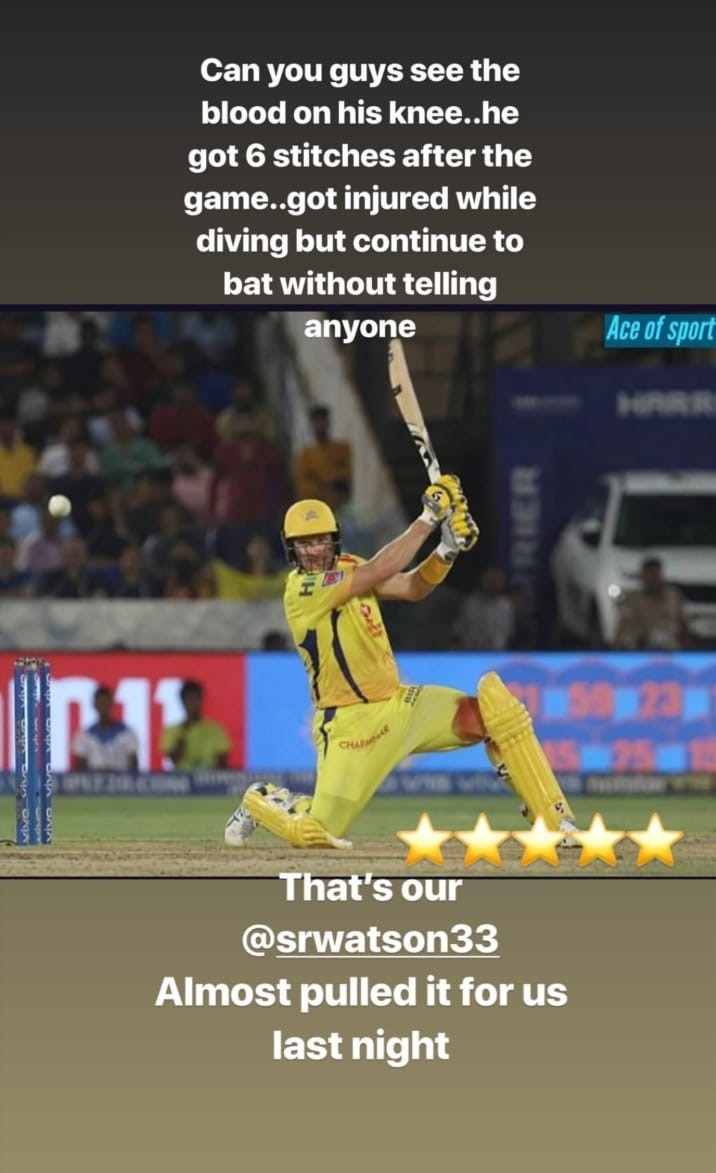 "Can you guys see the blood on his knee. He got 6 stitches after the game. Got injured while diving but continue to bat without telling anyone," Harbhajan wrote on his Instagram story.
Watson was badly injured on his right knee and he was bleeding throughout the game. People were unable to notice because of his pads.
Social Media fans salute this player for his dedication towards cricket and express their emotion towards Super King Shane Watson through tweets. So, here are a few tweets.
Cup Don't Deserve You @ShaneRWatson33 🙏❤

Real Hero Of The Fınale! #ShaneWatson #Watson#WattoMan #Watto! pic.twitter.com/1nf1CZfg0I

— V ı N A Y C H A G A N T I 😎 (@VinayChaganti0) May 14, 2019
#Watto
Ur contribution is more than a trophy for us Shane Watson pic.twitter.com/U4u4rGJztn

— mahi Manish dhoni (@Manishp92678574) May 13, 2019
Whatever this man did last n8 was beyond! I mean Watson played a knock that will be remembered! The blood from his knees …. 😭 …… Sometimes winning is not about the trophies it's about the heart and the soul and the blood that flows💓 #ShaneWatson 🔥 @ShaneRWatson33 pic.twitter.com/hrm3vxaIoT

— Arohi…CSK 💛 Arya 🌟 (@armitage_arwen) May 13, 2019
On realizing #ShaneWatson heroics in the #IPLFinal2019! #WattoMan #CSK pic.twitter.com/IlUY0y5jMw

— The Dikhlaut Guy (@kataidikhlaut) May 14, 2019
Shane Watson Bleeding to leg continues Batting watto Watson Iam proud of you 2019 IPL Real Hero pic.twitter.com/2VPc2GKSRV

— Agatamil Agastin (@Agastin43182350) May 14, 2019
u r champion 💪😑#ShaneWatson pic.twitter.com/prQ1wNGRR4

— Thala Bala (@Bala23667777) May 13, 2019
What a dedication!! Man Never give up till he played.. With blood bleeding from his knee.. No words.. Just 🙏 #LoveYouWattoo @ShaneRWatson33 #Csk #IPL2019Final #WhistlePodu pic.twitter.com/AgEZdGXJtX

— #Thala #Ajith (@iam_K_A) May 13, 2019
💯 committed to the game #ShaneWatson pic.twitter.com/9QSFGGNZna

— Jenin Joseph (@im_jeninjoseph) May 13, 2019
As a Cricket Fan and RCB fan @ShaneRWatson33 Respect Sir🙏🙏🙏 #ChennaiSuperKings #IPL2019 #IPL2019Final pic.twitter.com/lPaVFrcvHB

— Manoj Kumar (@_Manojkumarr) May 13, 2019
Final match lose hurts a lot.
But it's became nothing in front of this man dedication
Proud to have you in #CSK#ShaneWatson ❤️ pic.twitter.com/quEfQEYPjW

— Sam Prathap (@Sam_Prathaps) May 13, 2019
A HERO INDEED. #ShaneWatson pic.twitter.com/J5VlVUmfRf

— Jeswin M. Mathew (@ThJeswin) May 13, 2019
Stumpsandbails Salutes this Man for putting his heart and soul for his commitment towards the game.