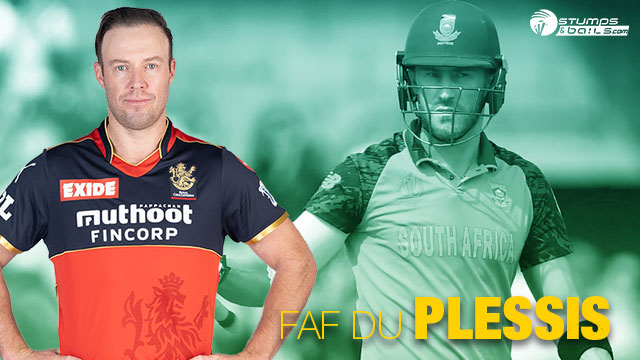 A 37-year-old South African professional cricketer, Francois du Plessis is considered to be one of the world's best players in the International cricket fraternity. Fondly known with two nick names "Faf" and "The Marathon Man", this right-handed batsman is known for his best fielding techniques.
His services as a cricketer were recognised by the South African national cricket and named him as the "South African Cricketer of the Year" in 2019. He has not confined himself to batting department, but tried to contribute his best by tapping other departments which proved him as a part-time leg spinner. He is the most promising player and will not succumb to pressure, is what his colleagues feel about him.
In the cricket history, the title – cool, calm and composed – are famous. Indian cricketer Mahendra Singh Dhoni is more associated with this title. But players like Faf would also show a similar intent and content. He has imbibed the traits of being calm and composed and show his best character when he is on field.
Recently, Faf was announced as the captain of Royal Challengers Bangalore (RCB) by the franchise after Virat Kohli was dropped from the post. He will be heading RCB team in IPL 2022. Such recognitions on foreign lands proves that he is not only trusted by at his home but by other national-level cricket fraternities, communities and franchises.
Faf Du Plessis birth place and family?
He is a native of Pretoria, Transvaal Province in South Africa. He finished his schooling from Afrikaans Boys High School, Pretoria and studied at University of Pretoria, Pretoria. He married to his girlfriend, Imari Visser, in 2013 and the couple were blessed with a girl and a boy. His sister Rhemi is married to fellow South African international cricketer Hardus Vilijoen in December 2019. He has 'Cancer' as his zodiac sign and believes in Christianity. He said, "I know that my purpose is about more than the runs I score on the cricket field. I hope to be able to spend time with people to show them the love of Jesus and see His love shine through them as well."
Faf Du Plessis likes and dislikes?
His favourite colour is red, black and white. His favourite food and beverages are cold coffee, ice cream and Indian food. Mark Wahlberg and Dwayne Johnson are his favourite actors and Master KG and Kabza De Small & Elaine are his favourite singers. He would love to visit India, London and Dubai as they are his favourite holidaying spots. During free time, he would like to play cricket and watch movies or would prefer to go for shopping.
Faf Du Plessis Favourite Jersey and Cricket Players?
Du Plessis is more fond of wearing #18 (South Africa) and #18 (IPL, County Cricket) jerseys. The pink colour has been really lucky for the team as they have not lost a single match yet while wearing pink. Apart from luck and fate, the change in the colour of jersey marks a significant step that the squad has taken up which is "breast cancer awareness". His favourite cricketers are AB de Villiers, Hashim Amla, Chris Gayle and Kumara Sangkarra and under bowling category, Faf always prefers Dale Steyn and Wasim Akram as his favourite picks. His favourite commentators are Sanjay Manjrekar and Simon Doull.
Faf Du Plessis Favourite Shots And Cricket Grounds?
This South African player chose cover drive and flic shots as one of the cricket shots. His favourite grounds are Supersport Park and Centurion and Kingsmead Cricket Ground, Durban.
Faf Du Plessis Debut Into The Game Of Cricket?
He made his ODI debut on 18 January 2011 against India and made unbeaten 60 runs. He was chosen ahead of Albie Morkel for the 2011 World Cup on the Indian Sub-continent and later made his Test debut for South Africa against Australia at the Adelaide Oval in 2012 as the number 6 batsman, replacing the injured JP Duminy.
On 17 December 2014, Du Plessis set the record for playing the most number of international cricket innings before scoring a duck (108) and also became the only batsman to play in over 100 international innings before first ever duck.On 27 December 2014, Du Plessis scored his second first innings century at the same ground: St. George's Oval. On 11 January 2015, du Plessis scored 119 in 56 balls against West Indies, becoming the first South African to score centuries in all forms of the game.
Some Unknown Facts About Du Plessis!
He is a second cousin of Namibian rugby player Marcel du Plessis. His father Francois Du Plessis played rugby in the centre position for Northern Transvaal in the 1980s. He was featured in the music video for the song "Maak Jou Drome Waar", a duet by AB de Villiers and Ampie du Preez.
Was Faf Du Plessis found guilty in ball tampering issue?
He has been found guilty for twice in ball tampering issues. The first time was during The Oval Test match in 2013 against Pakistan. The first incident against Pakistan involved du Plessis rubbing the ball against a zip on his trousers in order to change the nature of the ball. This was caught on video and du Plessis was subsequently found guilty for which he was fined 50% of his match fee.
The second incident against Australia involved du Plessis rubbing what looked like a "lolly" or mint, on the ball in order to make one side sticky. Though he denied any wrongdoing and pleaded not guilty to the charge, he was found guilty of ball tampering on 21 November 2016 and was subsequently fined 100% of his match fee for the second Test against Australia and he was given three demerit points. The punishment of four demerit points within 24 months threw him under suspension from one Test. He started playing the next test and scored a century. Surprisingly, the following month he was made captain of the South African cricket team.