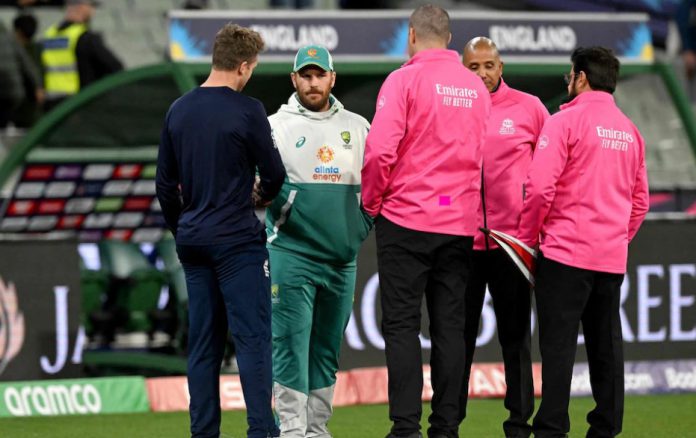 If Australia wants to retain their title, they will need to emulate their thrilling T20 World Cup final from a year ago. Their crucial match against England was ruined by Melbourne's torrential downpour. Fans who endured the awful weather were let down since no play could be conducted on Friday night. The MCG outfield was judged dangerous by match officials.
When the rain stopped at the time of play's planned start at 7 o'clock. Wet covers were removed. But the playing field had been sopped by the roughly 25mm of rain that fell in the 48 hours prior to the match. The bowler run-ups at either end, which would have presented significant challenges for fast bowlers. The exceedingly damp conditions in some areas of the outfield were causes for concern for both Australia and England.
What's Troubling the mighty Australia?
Due to their dismal net-run-rate, Australia will likely need to win its next two games handsomely. The games are against Ireland on Tuesday at the Gabba. They play Afghanistan on Friday at Adelaide Oval as a result of the (non) outcome (NRR). It is now at -1.55, the lowest in Group 1, following their crushing loss to New Zealand to open the Super 12.
Australia's NRR is taking a similar hit and needs major victories over Bangladesh and the West Indies. This scenario is familiar to them after they were humiliated by England at the 2018 World Cup.
Coach's View on Current Scenario
Coach Andrew McDonald, who worked as Justin Langer's assistant during the UAE event the previous year talked about the similarity between 2020 and 2022 tournament. He said, "Very similar, albeit there's the unknown of the weather."
"Net-run-rate is going to come into it. We knew that at the start of the tournament. There are only play five (Super 12) games so net-run-rate can decide who goes through to the final four. We feel as though we've been there before… first and foremost we've got to improve certain facets of our game and do it throughout the tournament.
"We want to get back to the cricket we know we're capable of and we probably haven't done that yet. There's still plenty of improvement in the group."
Aaron Finch's team performed admirably and advanced to the semifinals tied on points with both England and South Africa, the latter of which narrowly missed out on advancement on NRR.
If England lost against New Zealand in Brisbane on Tuesday, their NRR might no longer matter, which would considerably help Australia's case in this year's competition.