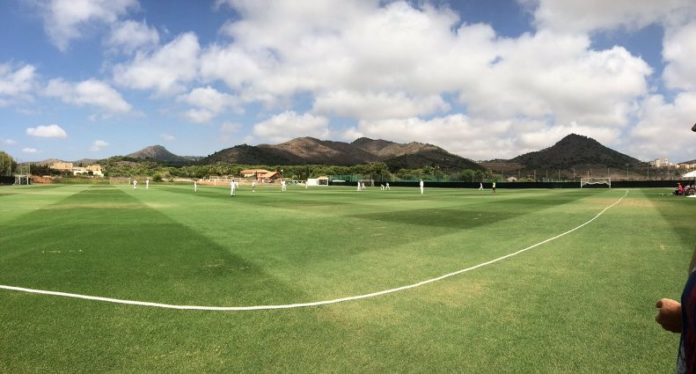 MATCH DETAILS
The 16th ECS Cyprus T10 game between Punjab Lions CC and Amdocs CC will be played at Ypsonas Cricket Ground.
The match starts at 9 AM local time (11:30 AM IST) (6 AM GMT). It can be downloaded live to the Fancode.
PREVIEW FOR DREAM11 FANTASY
The 16th match of the ECS Cyprus T10 will see the undefeated Punjab Lions CC lock horns against the Amdocs CC. The Lions have won all seven games so far and will face the Amdocs for the third time in four days. Both times, the Lions were triumphant, although the Amdocs had won just one match out of five so far.
WEATHER REPORT
There is no chance of rain in this match, as the sun is expected to shine at a temperature of around 30 degrees.
PITCH REPORT
Average score dropped down a little due to a few sub-par scores on Wednesday. But the Punjab Lions CC continued to score big and expect the trend to continue if they beat first.
INJURY AND AVAILABILITY NEWS
There was no injury update from any player.
PROBABLE PLAYING XIs PUNJAB LIONS CC
Gurapratap Singh, Neeraj Tiwari (C & WK), Mangala Gunasekara, Waqas Akhtar, Kulwinder Singh, Sushil Kumar, Waqas Akhtar, Satish Kumar, Vikram Verma, Satish Kumar, Amardeep Singh.
Bench – Dhanuka Agathocleous, Prasad Suranga, Zeeshan Mehmood, Harpreet Singh, Sukhjeeth Singh, Malika Dulaj, Sujantha Perera, Sunil Sharma, Satnam Singh, Danajaya Wijesoorya, Faisal Sarwar, Amith Kumar, Sukhjeet Singh, Danajaya Wijesooriya, Kunal Saini, Harwinder Singh, Zeeshan Mehmood, Tarandit Singh.
PROBABLE PLAYING XIs AMDOCS CC
Swaroop Pattanaik, Aritra Chakraborty (WK), Preetaj Deol, Ashish Srivastava, Chaitas Shah, Vimal Khanduri, Gaurav Sagwan, Hitesh Thadani (C), Rahul Shukla, Vilok Sharma, Santosh Manda.
Bench – Indrakiranreddy Kancharia, Srikanth Komiripalepu, Sumeet Advani, Giridhar Singh, Shravan Kumar, Avinash Rane, Neelesh Makarande, Shailendra Chauhan, Vijaya Naravula, Arjun Pasoriya, Saurabh Panghal, Lahu Deshmukh, Aniket Malpure, Sanjeev Kumar.
CAPTAIN AND VICE CAPTAIN SELECTION
CAPTAIN OPTIONS – Mangala Gunasekara and Kulwinder Singh.
VICE CAPTAIN – Swaroop Pattanaik, Waqas Akhtar and Gurapartap Singh.
DREAM11 TEAM FOR PUNJAB LIONS CC Vs AMDOCS CC
Wicket Keeper – Waqas Akhtar
Batsmen – Amardeep Singh, Gurapartap Singh (VC), Swaroop Pattanaik, Neeraj Tiwari
All-Rounders – Kulwinder Singh, Mangala Gunasekara (C), Gaurav Sagwan
Bowlers – Satish Kumar, Vilok Sharma, Vimal Khanduri
12th Man – Aritra Chakraborty
*Disclaimer: A team here is picked based on the perception, analysis, and gut feeling of the author. When you select your team, analyze the points mentioned to arrive at your own decision.*