Dubai will be up against Sharjah in Match 29 of the Emirates D20 League at the ICC Academy ground in Dubai. DUB vs SHA will be played on December 22 at 6:30 PM IST. Here are DUB vs SHA Dream11 predictions, DUB vs SHA Dream11 preview, DUB vs SHA Dream11 team and squad.
Also Read | AUS vs IND Test: Steve Smith Backs Virat Kohli's Paternity Leave Decision
DUB vs SHA Dream11 Prediction: Preview
Both the participating teams have already cemented their spot in the semi-final berth so the following game does not carry high-regards in the tournament's point of view. However, the upcoming fixture will decide who will finish third and fourth on the points table, respectively.
Both the side have been visibly inconsistent in the tournament so far. Dubai have managed to clinch four games in the tournament and have failed to come up with the goods in the other five. They made a strong comeback after losing the first two games of the league to secure the semi-final spot.
Also Read | India In Australia: Five Controversies That Shook The Cricketing World
As for Sharjah, they have won four games and faced defeat in as many. Their one game in the league ended in a no-result. The Sharjah-side has made things difficult for themselves with their inconsistency throughout the season. However, both the teams have a fair chance to settle their side with a win in the upcoming fixture before heading towards the crucial semi-finals.
DUB vs SHA Dream11 Prediction: Team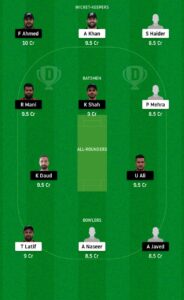 DUB vs SHA Dream11 Prediction: Full Squad
Dubai
Muhammad Usman, Punya Mehra, Ronak Panoly, Rudra Mahadev, Omer Farooq, Saqib Manshad, Shahrukh Sheikh (C), Adnaan Khan (WK), Bilal Cheema (WK), Syed Haider (WK), Ali Naseer, Muhammad Hassan, Nilansh Keswani, Rahul Bhatia, Tahir Latif.
Also Read | Breaking News: Suresh Raina Arrested In Raid At Mumbai club
Sharjah
Faisal Khan, Fayyaz Ahmad (C), Khalid Shah, Renjth Mani, Yuvraj Barua, Badiuzzama Sayed, Kashif Daud, Mohammed Halan, Umair Ali, Mohammad Boota (WK), Nathan Shibu (WK), Arsalan Javed, Faisal Altaf, Hafeez Rahman, Krishan Paul.
DUB vs SHA Dream11 Prediction: Predicted Playing XIs
Dubai
Rudra Madhav, Adnaan Khan (wk), Syed Haider, Muhammad Usman, Muhammad Hassan, Shahrukh Ahmed (c), Bilal Cheema, Omer Farooq, Ali Naseer, Rahul Bhatia, Nilansh Keswani
Sharjah
Khalid Shah, Renjith Mani, Faisal Khan, Fayyaz Ahmad (c), Muhammad Boota (wk), Umair Ali, Arsalan Javed, Badiuzzama Sayed, Hafeez Rahman, Faisal Altaf, Krishan Paul
DUB vs SHA Dream11 Prediction
Our DUB vs SHA Dream11 prediction is that Dubai will win the clash.
Disclaimer: Please note that our Dream11 predictions are based on our own analysis and they do not promise fixed results.