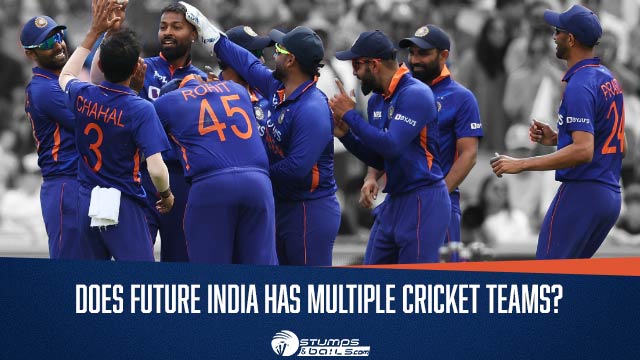 We are living in times where cricket is not just a sport, it is a lifestyle. You can spend your days just feeding yourself with the updates of players, series, and not be aware of the world and still you will do just fine, you will find your niche. Why this opening? Because probably that is where we will reach with all the cricket that is happening around us. There are too many players to learn about, all of them better than each other and all of them trying to make it big.
With the amount of talent that we have and also the opportunity, the sanctity of playing in the national team stays just. The privilege of playing for India is something every professional player in the country is aspiring for. We will not be harsh and say not all of them deserve to be at the highest level but we have a lot of them ready to compete against the best team. So for that, what do we have?
In a recent interview with BeerBiceps, The Ranveer Show, the team India's fitness coach talked about players' fitness and how the players prepare for a strenuous season, and how they manage breaks. When asked about the amount of cricket that bonded players are playing and does he see multiple India teams going to tours all at the same time, he said that it is very likely that we will. This is probably the future where we will have more than one team touring, representing the country, all at the same time.
We have seen in recent times where one team was preparing for the stranded Edgbaston Test match in England while the other was touring Ireland. It happened that for the same series in the previous year when India was playing England, there was also another team playing White ball cricket in Srilanka. Both of them were leading at that time. The game was on, the quality was not compromised. It's just that we were confused about which match to follow vicariously.
If we look at Team India's Future Tour Plan, they have a series scheduled for each month of the next year. The only window we see that is not busy internationally, is saved for IPL which in itself is a massive, arduous league that takes much of players' energy. It is for the mental and physical health of the players that there be more than one set of players organized in a team and play series.
There is no debate about India's bench strength, in future too we are going to see many more talented players coming up as a lot of them are waiting for their break into the team, proper planning and form analysis in terms of domestic performance and current use of the very reputed National Cricket Academy can give the players exposure and facilitation to make their mark at international level and make it easier for players as well.
There is still a long road to be covered and a lot of discussions to be had when we talk about this proposal. Many might get offended, but with the amount of cricket we are seeing and the changes that we are already seeing, it won't be very surprising to see multiple Indian Cricket Teams. Our love for cricket will help us be fine with it.
Also read: Top 5: Highest Strike Rate In An ODI Innings