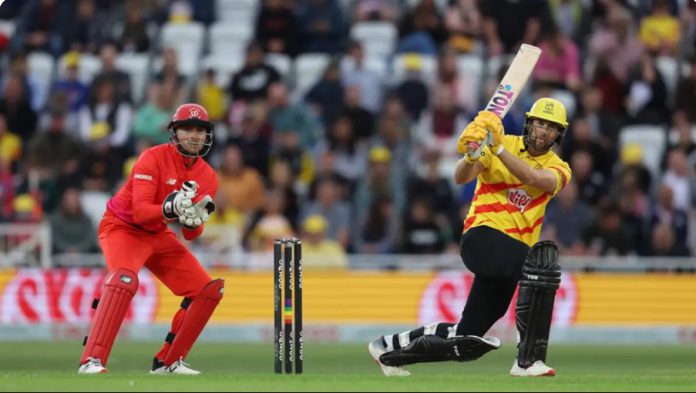 Trent Rockets have ensured a playoff spot with the 29-run win over the Welsh Fire.
After winning the toss Welsh Fire decided to bowl first and this decision to bowl first certainly did not work out as the Trent Rockets side crushed the bowling side of the Welsh Fire team.
Trent Rockets side opened the innings with David Malan and Alex Hales who scored an 89 run opening partnership giving a good start for the team, Alex hails scored 38 runs from 29 deliveries with a strike rate 131.03, on the other hand, David Malan scored 58 runs from 37 deliveries with a strike rate of 156.76.
Daniel Sams tried to do something special but as the innings progressed he was dismissed for quick 31 runs from 14 balls by J Ball, Munro also contributed with his quick cameo of 22 from 11 balls.
Welsh Fire was unable to stop the flow of runs, Trent Rockets batsman was in a different mood totally as the Rockets side put up a tough score of 172 for 4 in 100 deliveries.
In reply, the Welsh fire didn't even look serious to chase down the target as the Trent Rockets bowlers tried all the things possible to stop the Welsh Fireside from chasing down the target.
Welsh Fireside had no special knocks Duckett tried to show a little courage but later fell prey to Sam Cook after scoring 25 runs from 21 balls. Shamsi took two crucial wickets to puncture the Welsh Fire batting line-up. Welsh Fire ended up scoring 143 for 6 wickets in hundred balls.
This is the sixth time that the Welsh Fire is losing the game in the inaugural Hundred tournament, they are in a poor run of form with yet to register a single win in the competition. The target was a difficult one to chase down and it looked like Trent Rockets were clear favorites to win the match, huge thanks to Dawid Malan's fifty that helped the Rockets side to put up a decent total.
Dawid Malan continued his brilliant run once again by scoring fifty in this match, earning him the man of the match award for helping his side to qualify for the play-offs spot comfortably.
After the match, Malan stated that "Got a couple away early. The wicket sort of slowed down so was lucky to get a couple away early. Looking fantastic to qualify. Got a good bunch of guys, similar squad to last year."