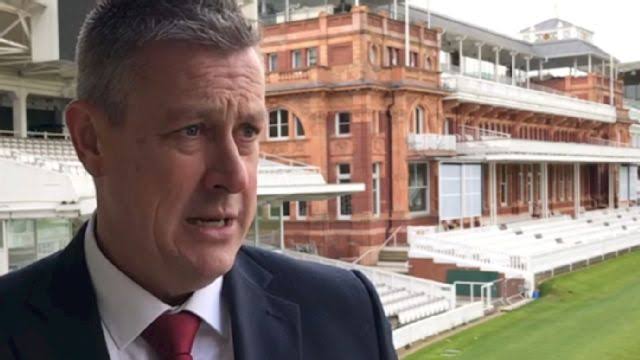 Ashley Giles Opens About What Cricketers Feel During Lockdown:
Ashely Giles, England's men's cricket director, remains hopeful that some international cricket will be played this summer and says England's players will be ready to resume action when they're needed.
The ECB has already announced that there will be no cricket until at least 28 May, and Giles suggests that the date is likely to be extended as early as June. For a three-test series at the beginning of June, England is expected to host West Indies and then Australia, Pakistan and Ireland for various red and white-ball rubbers after that.
The ECB is working on a variety of scenarios in order to get as much of the scheduled cricket in when the season will start with a view to pushing the international series later into the summer. "That's what we're looking at right now and we're working on seeing how this is possible with the other boards around the world," Giles said.
"We have very good relationships with these boards and we do whatever we can to look at situations where we can push back our cricket which gives us the best opportunity to play as much international cricket as we can.
"We all understand that we have to be as flexible as we can in a time like this. Nothing is going to be perfect. Preparation for players, rest between matches, cross over formats, it's a blank sheet of paper right now, as it has to be, we have to adjust.
"The goal is to do what we're asked to do and a lot of what we hear in the news is obviously negative and bad news. We've got to try to remain optimistic as well. I'm sure we're going to get some cricket later in the summer. I don't know exactly what that's going to look like, but we have to be when we're planning or it's going to get more and more down the situation.
"Our roles will be to look positively at those situations and when it's time I think the sport will have a huge role to play in getting the nation back to its feet I really do. Our teams have a big part to play in that."
One choice that the ECB considers is playing white and red ball series at similar times although Giles said the ECB had not specifically considered that different formats could be played at different venues on the same day. For instance, if an ODI could be played on the same day a test match was also going on.
"Technically this is possible," said Giles. "You could put together two separate groups. We haven't really looked at that, like that, yet. We've definitely looked at playing two formats at the same time. You could run a test match and play a T20 or an ODI the day before or the day after a Test match.
"But it's still focusing on what's best and what they want with the broadcasters. That's another vital partnership for us. They're going to be struggling right now and we're all united in this. We're going to do whatever we need to do.
"Although it might not be perfect from a play point of view, in long run it might give us a closer look at other players and a larger group of people that we would have to play that way in the future. This might be an advantage in that sense."
England players have been advised to stay fit for now. Equipment, such as kettlebells, has been provided to those players without home gyms so they can remain active. "My only question to the players is that there is no real reason for you not being able to stay fit during this time," Giles said.
"You can be jumping up and down in your front room, you can still go for a jog, you can use your home equipment. There's a whole range of things you might do to get our players ready when we get the green light. We may be pretty hurried at that point, but at least they're physically ready to get on with it."
Typically players will need to get up to full speed within four to eight weeks of cricketing preparation, but there's an understanding that it's unlikely to be practical. Giles believes England will at least need a "couple" of warm-up matches before any international cricket takes place. There would be options to play intra-squad matches or games against England Lions if the county game had not yet been up and running.