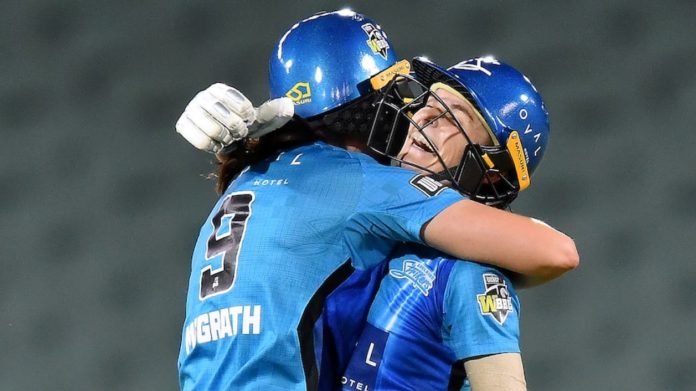 Charli Knott's One-Handed Screamer sends Wolvaardt Packing: WBBL 2022
The Women's Big Bash League has been going on in full force, and there has been a very tough competition between a few teams for the top spot in the point stable. Though there are 37 matches still to go before the semifinalists are declared. All the teams are putting up great fights to prevail at the top. And their efforts are not just coming in with the Bat and bowl. The fielding has been the top notch as well.
A fantastic fielding effort by Australian player Charli Knott
who plays for the Heat in the tournament, during the just ended match between Adelaide Strikers and Brisbane Heat, caused Strikers' Laura Wolvaardt to return to the pavilion. Wolvaardt chipped the ball for a boundary as she drew nearer to a half-century, but Knott's one-handed grab resulted in her unanticipated dismissal.
Adelaide Strikers was in trouble
Adelaide Strikers was in trouble at 98/3 in the 14th over of the first innings when Amelia Kerr struck and got rid of the effective Wolvaardt. All the glory goes to Charli Knott, who snatched a one-handed screamer out of nowhere and left everyone on the field in awe of her reflexes, even if Kerr delivered the delivery and took the wicket.
Charli Knott made good progress as she rushed in the direction of the ball. The ball climbed after striking Wolvaardt's bat's edge. When it appeared that Knott would be able to stop the ball from travelling even further toward the boundary. She dove forward and made a successful one-handed catch to remove the batter from the game.
Adelaide Strikers dominated the second Innings Speaking of the outcome of the game, Strikers managed to score 140/8 despite losing a lot of wickets in the last few overs of the first innings. Brisbane Heat appeared poised to chase it down. But Megan Schutt and Darcie Brown swept through Heat's batting order. Taking four wickets apiece to give Strikers a 31-run triumph. Brisbane Heat lost for 109 runs in just 17 overs, giving Adelaide Strikers the necessary points.
Squads for the game:
Brisbane Heat:
Grace Harris, Georgia Redmayne (wk), Georgia Voll, Amelia Kerr, Laura Harris, Charli Knott, Jess Jonassen (c), Mikayla Hinkley. Nicola Hancock, Courtney Grace Sippel, Jess Kerr
Adelaide Strikers:
Deandra Dottin, Katie Mack, Laura Wolvaardt, Tahlia McGrath (c). Bridget Patterson, Madeline Penna, Amanda Wellington, Tegan McPharlin (wk), Jemma Barsby, Megan Schutt, Darcie Brown, Meagan Dixon. Ella Wilson, Annie O Neil, Anesu Mushangwe