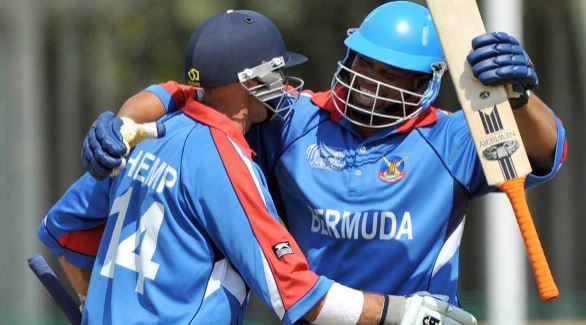 PITCH AND CONDITIONS 
This pitch at Al Amerat is a balanced pitch and is more supportive of pacers and batsmen. spinners too get slight support from this pitch.
Bermuda
Bermuda has lost their last match against Hong Kong by 3 wickets and 4 balls to spare.
Despite Manders and LeveRock's half-centuries, they failed to win in their opening match of the season.
Terryn Fray the lead of the team along with K Leverock and T Manders will form the top order.
Then the middle order D Rawlins, D Stovel, D Darrell and O Bascome are followed.
J Pitcher, D Rawlins, Onais Bascome, K Leverock will form the bowling attack.
PROBABLE PLAYING XI OF Bermuda
Kamau Leverock, Terryn Fray (C), Tre Manders, Okera Bascome (WK), Delray Rawlins, Zeko Burgess, Duente Darrell, Dion Stovell, Kyle Hodsoll, Justin Pitcher, Onais Bascome, Sinclair Smith
Uganda
Uganda has come up with a victory in the opening match of the season against Jersey.
It was Dinesh Nakrani who led the team to the win with his 79 off 70 along with Shahzad Ukani's 47 off 56.
Even in the second encounter with Kenya, Uganda won by three wickets and 4 balls to spare.
R Mukasa and Arnold Otwani are set to open the innings for the side.
Shahzad Ukani, Ronak Patel and skipper B Musaba will follow the middle order.
D Nakrani, F Nsubuga, R Agamiire, R Ali Shah and Bilal Hassun will form the key bowling attack.
PROBABLE PLAYING XI OF Uganda
Roger Mukasa, Arnold Otwani (WK), S Ukani, Ronak Patel, Brian Masaba (C), Dinesh Nakrani, Riazat Ali Shah, F Nsubuga, Kenneth Waiswa, Bilal Hassun, Richard Agamiire
OUR FANTASY LEAGUE PICKS FOR Bermuda vs Uganda, CWC CHALLENGE ONE-DAY 2019 

ARE MENTIONED BELOW:
Arnold Otwani
Brian Masaba
Delray Rawlins (VC)
Riazat Ali Shah (C)
Kamau Leverock
Sinclair Smith
Tre Manders
Dineshkumar Nakrani
Justin Pitcher
Onias-Bascome
Frank Nsubuga
Click Here for Match Prediction.
*Disclaimer: A team here is picked based on the perception, analysis, and gut feeling of the author. When you select your team, analyze the points mentioned to arrive at your own decision.*