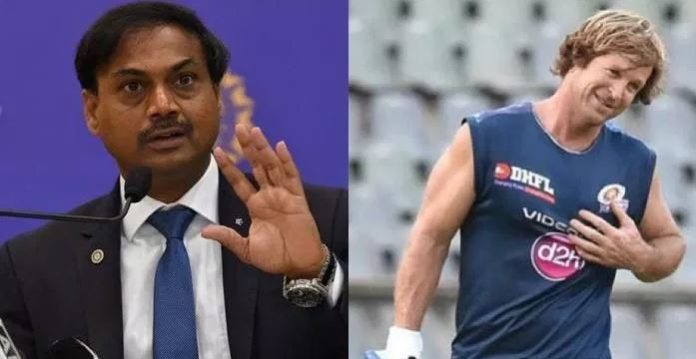 The Board of Control for Cricket in India (BCCI) has recently announced the retention of  Ravi Sastri as the head coach of India. With the rejection's of Mike Hesson and Tom Moody has made BCCI face a lot of criticism. Even then they went on with re-appointing the former coach R Sridhar, as the fielding coach of the side.
The selection committee has listed the final three candidates for fielding coach, in which  R Sridhar was their top priority followed by Abhay Sharma & T Dilip. The cricketer like Jonty Rhodes who was not seen in the top of the list has surprised everyone.
The reason behind Rhodes rejection was reported as, the former cricketer would be very expensive for the job. However, the senior national committee head MSK Prasad later revealed that they thought that Sridhar is more familiar with the players, and hence, will be able to coordinate in a better way.
"With regards to the 2nd and 3rd position, we don't see Jonty Rhodes fitting in there because those roles are more for India A levels and the NCA," – MSK Prasad said.
Jonty Rhodes has reacted after he has failed to put himself in India's fielding coach position. In an event in Chennai, he spoke out on his rejection and told the media that he is probably not as good as the current coach R Sridhar.
"I am sure my interview was not as good as the one with the incumbent coach because he has been there for the last couple of years. Players have definitely worked with a plan. And you can see the progress as it just doesn't happen. I am expecting that from an interview point of view – he kicked my butt," – Jonty Rhodes said.
"As a fielding coach, I did a couple of years of coaching with the South African team till the 2007 World Cup. Since then, I have only worked in India. I am way more familiar with the cricketing set up in India than I am in South Africa," – Jonty Rhodes added.
Apart from R Sridhar, Bharat Arun has also been able to retain his post as the bowling coach of India. The only change in India's support staff is the batting coach as Vikram Rathore.